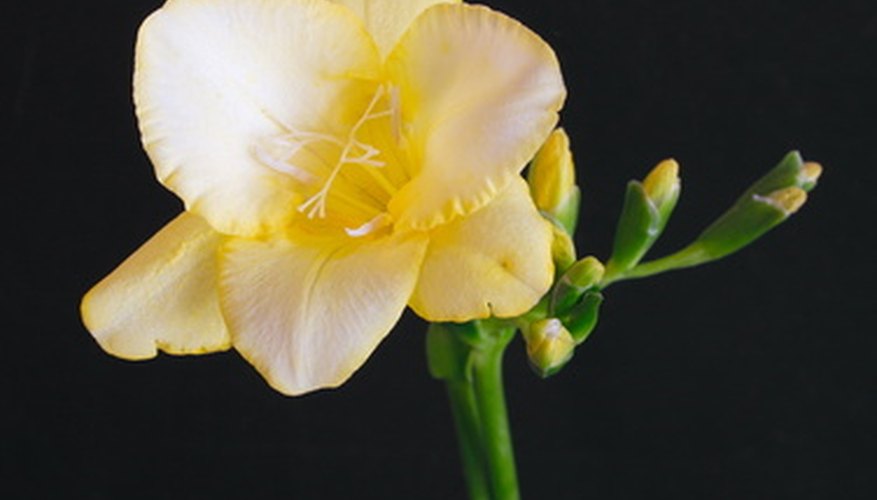 Freesia flowers are close relations of crocuses, irises and gladioli. When you plant freesia bulbs in your sunny growing area, you will enjoy beautiful summer displays as these colorful flowers sprout and bloom in a variety of bright colors. Gardeners often take the time to stake freesia flowers in a flower garden. The combination of thin stems and showy blossoms often causes freesia flowers to tip over. Keep freesia from falling over by staking each flower in the garden.
Position a stake on the soil approximately 3 inches away from each stem of the freesia flower.
Use the hammer to pound the stake about 4 inches into the soil.
Cut two 8-inch lengths of twine for each freesia flower.
Loop one piece of twine around the stake and the freesia approximately 2 to 3 inches below the blossom. Tie the twine to attach the freesia flower to the stake, making the twine tight enough to support the freesia yet not so tight that you injure the stem. Loop the second piece of twine around the stake and the freesia in the same fashion, except position this piece of twine at the halfway point of the freesia stem. Tie this piece of twine the same way you tied the first piece.
Stake each freesia in the same fashion until every flower has sturdy support to prevent them from falling over.
Things You Will Need
Freesia flowers

Wooden stakes (1 inch square and 2 feet long)

Hammer

Twine

Scissors
References