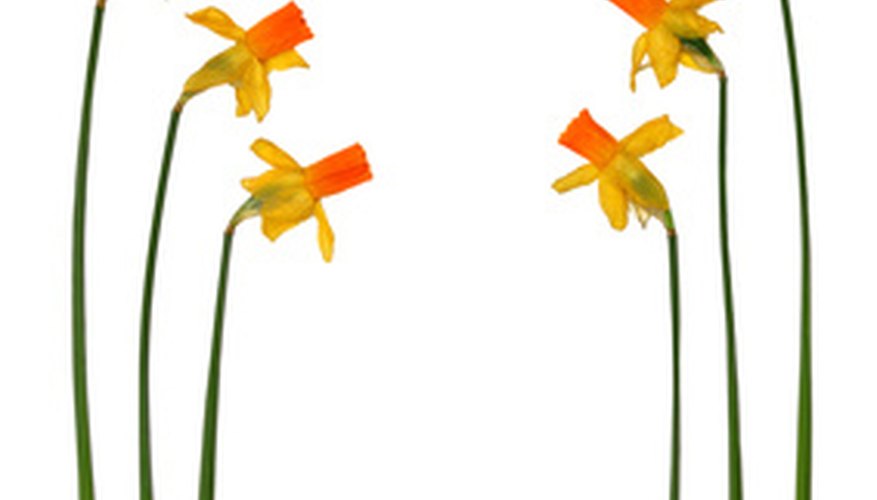 Pressing flowers is a simple way to preserve the beauty of flowers. For those who grow their own blooms, pressing flowers is easy and doesn't require expensive tools or machinery. If you're not into gardening, craft stores sell large varieties of pressed flowers. Pressed flowers add pretty, decorative touches to crafts, art work and home decor. You can use your pressed flowers to create original and interesting gifts for family and friends.
Cards
Using pressed flowers on greeting cards, place cards and wedding invitations is a way to add your own personal touch. All you need to create your own cards are blank, white note cards, white glue, tweezers, toothpicks and the pressed flowers of your choice.
Arrange flowers on the card first to see how they'll look. Use tweezers to pick up a flower, dip the toothpick in glue and apply a small amount to the flower, gently place flower back onto the note card and continue onto the next flower. Allow to dry and write your greeting or names and information around the flowers. For extra protection, cover cards with clear self-adhesive contact paper.
Candles
Create personalized, decorative candles for your own home decor or for gift giving. You'll need candles, pressed flowers, small paint brush, white glue, a tin can, wax paper, pliers and para wax. Para wax is found in the canning section of your grocery store.
Use the paint brush to apply a layer of white glue to the flower, place the flower onto the candle and gently press into place with your fingers. Wipe off any excess glue with a wet towel. Allow the glue to dry. Melt para wax by filling a large pot half way with water, bring to low boil. Place wax into a large can and place the can in the pot. Remove can when wax is melted. Using pliers, hold candle by the wick and dip into the para wax to seal the flowers. Let cool and dip a second time. Cool on wax paper.
Artwork
A traditional and yet beautiful way to display pressed flowers is to create your own artwork. Children especially love helping design a pressed flower masterpiece that they can give as a gift.
Select a frame. Wood, glass or plastic are all acceptable choices. Decide on a background for mounting your flowers. Acid-free card stock works well. You'll also need white glue, tweezers, and pressed flowers. Use tweezers to arrange flowers on the paper, dip your toothpick in white glue and add a drop to the back of the flowers, press flowers firmly into position. Allow glue to completely dry before framing. Cover the picture with glass and then attach the backboard and frame. Try to seal the frame as tightly as possible. Oxidation, caused by air leaking into the frame, will cause flowers to fade faster.