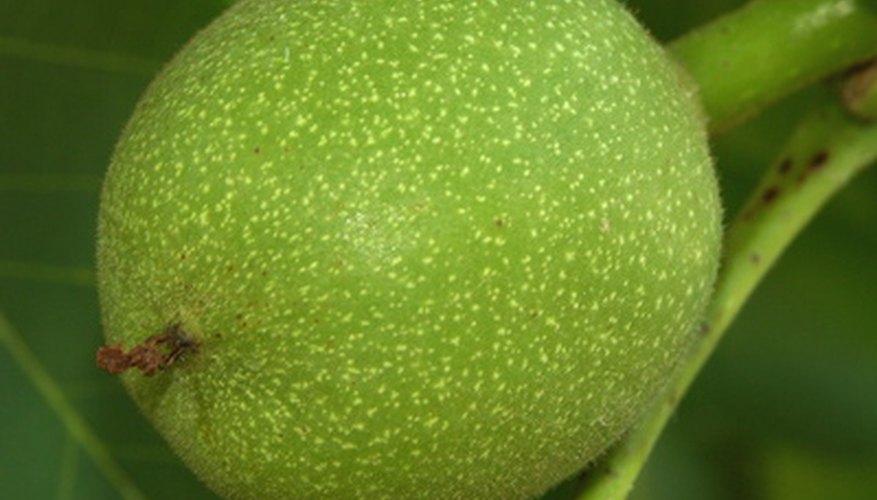 Black walnut extract is commonly used to treat fungal infections and parasites; and according to the American Cancer Society, early research findings suggest that there may be a compound with anti-tumor capabilities in black walnut hulls. The hull of the black walnut is what is used to make the extract. You can make your own black walnut extract at home; however, for maximum potency, you will need to allow it to age for six to eight weeks.
Collect freshly fallen black walnuts in the fall. Look for black walnuts with unbroken hulls and a fresh, green color with few or no dark areas.
Wash the black walnuts well using clean, fresh water. Use a soft brush if necessary to remove surface dirt and debris.
Place the walnuts in a large, non-reactive pot or bowl. Fill with vodka to the top of the bowl. Add 1 tsp. of vitamin C powder to help preserve the color of the black walnut tincture if desired. Cover with a lid or plate. Allow to sit at room temperature for three days.
Strain out the walnuts and add an additional teaspoon of vitamin C powder to the liquid. Stir. Funnel the liquid into small bottles with screw tops. Tighten the bottles' tops. Store in a dark place. You can use the extract immediately, or wait six to eight weeks for better results.
Things You Will Need
Freshly fallen black walnuts

Water

Soft brush

Non-reactive pot or bowl

Vodka

Vitamin C powder

Lid or plate

Strainer

Funnel

Small bottles
Tip
If vodka is not available or you prefer to avoid alcohol, a less-potent tincture may be made with vegetable glycerin or cider vinegar.
Warnings
Black walnut tincture will stain skin, clothing and surfaces. Handle with care.

Use black walnut tincture under the supervision of a trained herbalist, and as with any dietary supplement, check with your heath care provider before use.
References