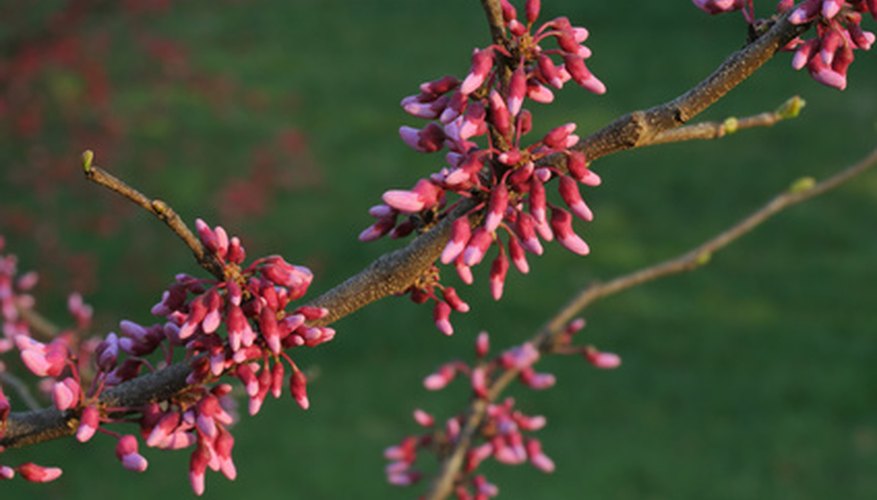 The Eastern redbud (Cercis canadensis) is known for its glorious, purple-pink flowers that are one of the earliest harbingers of spring. The redbud, which is the state tree of Oklahoma and sometimes called the Judas tree, is a moderate to fast grower. While it can be grown in the garden as a specimen or in groups, Clemson University Extension says the redbud works best in naturalized areas. The flowers contrast well with evergreens in woodlands.
Where to Grow
The Eastern redbud, which is native to North America, is hardy in USDA zones 4b through 9a. It is used as a residential street tree, in containers and above-ground planters, in parking lot islands and as a specimen lawn tree.
Appearance
The Eastern redbud will reach up to 30 feet tall in a vase shape, with a 15- to 25-foot spread. Its growth rate is moderate. The tree's alternate leaves are flat and broad with smooth margins. The trunk is short with spreading branches, and its thin bark is dark brown to black or gray. The flowers, which appear in early spring, are pink, purple or lavender. The tree produces flat, maroon pods with 1/4-inch seeds. Fall foliage is yellow to brown.
How to Grow
The Eastern redbud grows in part shade to full sun, benefiting from more shade in southern zones. The Eastern redbud is not particular about the kind of soil it has, but it prefers it to be well-drained and slightly alkaline. The tree has high drought tolerance, but very low salt tolerance. You don't need to water in the summer unless under severe drought.
Diseases
Canker is the Eastern redbud's biggest problem. Cankers will appear small and sunken at first, then enlarge and girdle branches. Because the fungus enters through wounds or dead and dying branches, keep your tree trimmed and destroy infected wood. There is no chemical control for canker. During wet weather, leaf spots can be a problem, but the disease is rarely serious. Verticillium wilt attacks and can kill your redbud. Prune and remove dead wood, feed the tree with slow-release nitrogen fertilizer and water deeply two or three times a week.
Cultivars
Popular cultivars of the Eastern redbud include pink charm, with pink flowers; purple leaf, with young foliage appearing dark purple; silver cloud, which has white variegated leaves; covey, which has a weeping habit; and flame, with double flowers and no seed pods (it is sterile).