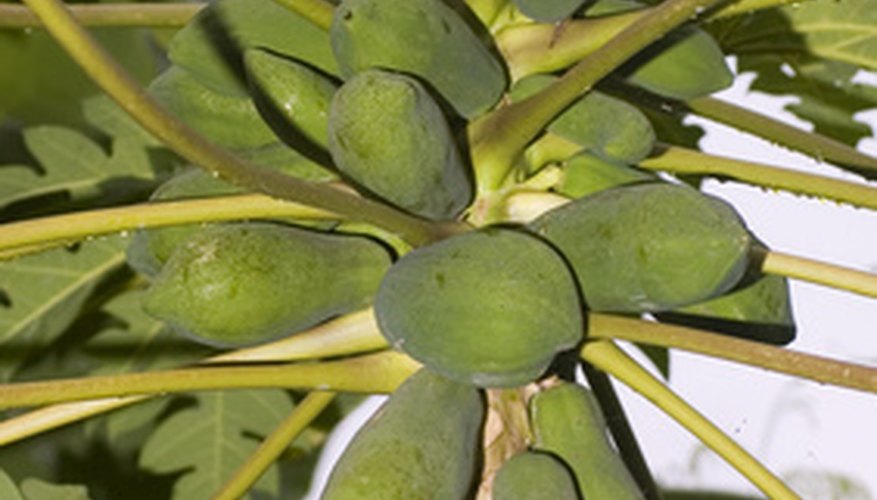 Papayas come in several varieties and grow best in tropical and subtropical climates. The slender trunk with its palm-like crown of leaves can grow to heights of up to 20 feet with fruit weighing from 1 to 10 lbs. In addition to being a decorative addition to the garden, papaya plants are capable of being a source of fresh fruit year-round. Papayas are easy to start from seed and fast growing but require extra care during the winter months due to intolerance to cold or freezing temperatures.
Prepare 12-inch or larger containers by filling each halfway full with a high-grade potting soil. Place three to four seeds per 12-inch container then cover with 2 to 3 inches of potting soil.
Pack down the soil and add water. Allow the water to settle in the soil then apply another thin layer of potting soil, if necessary. Place containers in a warm location that receives full sunlight.
Provide enough water to the containers periodically to keep the soil moist but not soggy to prevent root rot. Remove excess water from container dishes after seeds have been watered.
Wait for germination, which takes approximately three to five weeks. When seedlings are eight to 10 weeks old, transplant the hardiest seedlings into the yard or garden in an area with rich soil, good drainage and plenty of sunlight.
Transplant several seedlings within the garden area to ensure an adequate number of male or hermaphroditic plants for pollination purposes. Approximately six months after germination, the sex of the flower can be determined once the plants produce flowers. Male plants produce several flowers on stems; the female produces flowers on the plant's trunk.