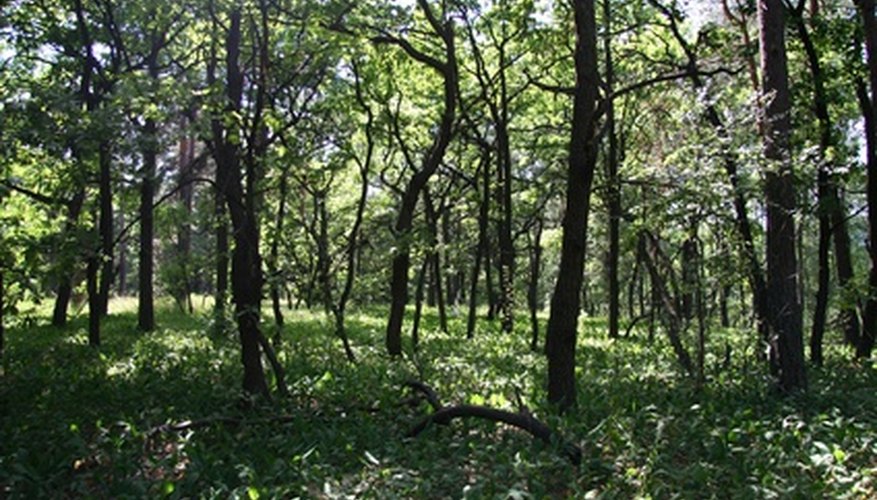 Native plants are rightfully being reintroduced into gardens and landscapes throughout the United States in a collective effort to improve the state of our natural environment. Thousands of species of native plants have had centuries of time to acclimate and adapt to soil conditions, sunlight exposure and precipitation availability. Each area throughout the United States has its own native plants that live in harmony with its ecosystem.
Black Cherry
The small sweet berries of the black cherry tree (Prunus serotina Ehrh.) grow in the summertime. Belonging to the Rosaceae family, black cherry grows throughout mid and eastern United States, including Arizona and New Mexico. Black cherry is a perennial tree that can reach heights up to 80 feet. Black cherry's small white blossoms bloom in late spring, and the tree does well in full sun to partial shade.
Wild Strawberry
A member of the Rosaceae family, wild strawberry (Fragaria virginiana Duchesne) is a perennial herb that grows throughout the United States and North America. It is also known as Virginia strawberry, mountain strawberry and thick-leaved wild strawberry. Wild strawberry grows to 6 inches tall, its flowers bloom in the spring and it produces edible strawberries.
Wild Columbine
A perennial herb of the Ranunculaceae family, wild columbine (Aquilegia canadensis L.) is native to the mid and eastern regions of the United States. It grows up to 3 feet tall, producing drooping reddish, orange or yellow flowers from mid-spring through mid-summer. Wild columbine thrives well in sunny and shaded areas. Its other common names include red columbine and Canadian columbine.
Witch-Hazel
A native perennial tree or shrub of the United States, witch-hazel (Hamamelis virginiana L.) grows throughout middle and eastern areas of the United States, as well as in Texas. Witch-hazel can grow up to 20 feet in height and does well in moist soil and full sun to partial shade. It produces its seeds in the spring, and its yellow flowers bloom in the fall.
Silver Sage
With the exclusion of Alabama and Florida, silver sage (Artemisia ludoviciana Nutt.) is native throughout the United States and most of North America. A member of the Asteraceae family, silver sage is a perennial herb that grows from spring through summer. It grows up to 3 feet in height and produces white flowers from mid-summer through the fall. Silver sage does well in dry soil and full sun. Its other common names include white sage, western mugwort, white sagebrush and Louisiana sage-wort.