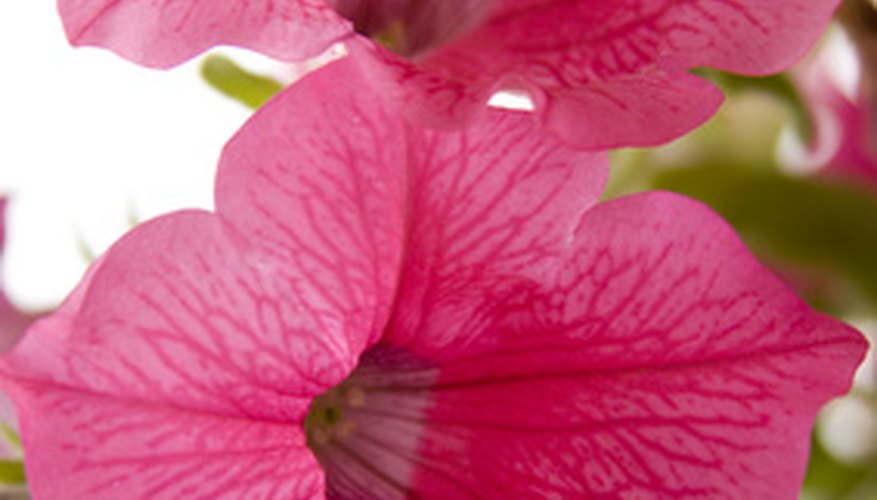 Colorado gardens are filled with the brilliant blooms of annual flowering plants because Colorado gardeners have learned to identify and adapt to the varied climate conditions and growing seasons from the mountain communities to the populated areas along the Front Range. Hot summer days with intense high altitude sunlight and drying winds, combined with cool nights, can work to the gardener's advantage with proper planning.
Dry Colorado Winds and Annuals
The varied microclimates in Colorado make it important for each gardener to identify wind, sun and moisture factors in each area of the garden.
Air flows from the Rockies can make certain areas of the garden windier than others, and these winds have a drying effect in addition to the damage wind can cause. Woody stemmed annual flowers will do well, though, if they are planted in an area sheltered by a wall. Others do well when growing against a stake.
Because the summer winds blowing from the mountain slopes are dry, low-growing, shade-loving annual plants do exceptionally well in Colorado. Annuals like impatiens, begonias, coleus and lobelia will bloom in brilliant colors in a shade garden.
Colorado's Intense Sunlight and Annuals
Intense Colorado sunlight and heat won't harm marigold, sunflower and zinnia. Sun loving flowers like the dahlia, Victoria salvia, and snapdragon also grow well in the high altitude sun and heat of Colorado. The cool nights add brilliance to the colors of the annual flower garden, making the additional planning time of the garden design well worthwhile.
Flowering tobacco and cleome and Victoria salvia all thrive in the special conditions Colorado offers. Alyssum, verbena, petunia and portulacea all do well in the intense sunlight at Colorado's high altitude and are highlighted in many of the area's gardens. Make sure the annual flower garden receives enough moisture to keep the flowers vibrant.
Varied Growing Seasons of Colorado
Annuals planted right after the last frost will immediately fill the flower garden with bloom until the first frost before winter. Mountain communities in Colorado can have growing seasons as short as 30 days, but planting annuals in full bloom will give the gardener instant color that will take advantage of the entire season.
Petunias and pansies tolerate cool temperatures, and are especially good annuals for the short growing season of high elevation communities. The geranium is considered an annual in Colorado because it seldom survives a winter in the garden; it, too, is a good choice for mountain gardens.