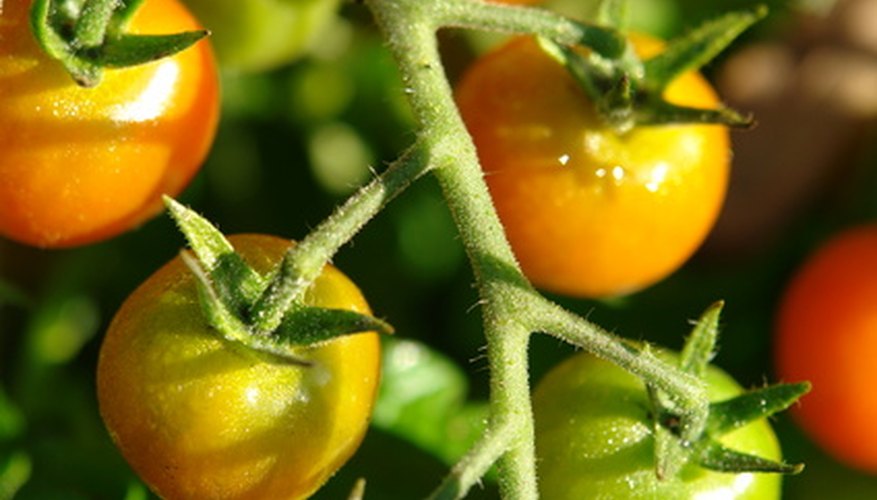 The very hot growing season can make things difficult when raising tomato plants in Louisiana. The high temperatures and stifling humidity will kill the plants if they are grown in the traditional fashion. However, there are some Louisiana tomato-raising secrets that can increase your chances of success. These tips keep the plants hydrated and cool throughout the growing season.
Choose Hardy Varieties
When selecting tomato plants in Louisiana, it's best to choose varieties that are genetically engineered to have a high tolerance for heat and drought. These types of tomatoes should be available in garden centers across the state. Examples of these varieties include Solar Set, Sunmaster and Sun Leaper.
Plant Deep
Normally tomatoes are planted in shallow holes. However, in Louisiana this can kill the plants because the roots will become too warm and dry. Dig holes that are at least 6 inches deep and cover the root ball up to the first true leaf on the seedling. Rooting the plants deeper allows Louisiana tomato plants to draw more moisture from the soil and keeps the roots cool.
Water in the Morning
Those raising tomatoes in Louisiana should always water the plants very early in the day. Watering the plants before the heat of the day really sets in allows the soil and roots to absorb as much of the moisture as possible. This bolsters them against the blazing afternoon sun.
Mulch
Covering the base of the plant with a layer of light-colored, natural mulch will keep the roots cool. The mulch locks in moisture and reflects the sun away from the earth. However, steer clear of dark wood or plastic mulches. These are designed to lock in heat during the planting season, which is chillier in most other regions. They will cause the Louisiana tomato plants to overheat.