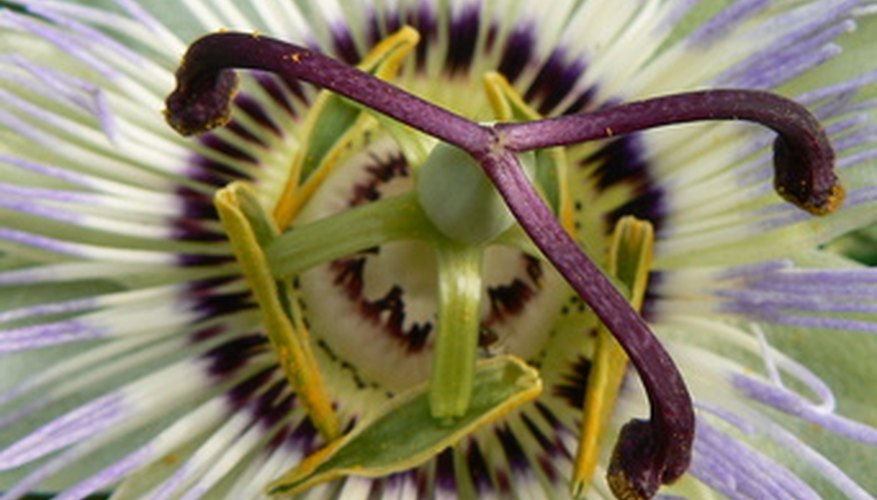 A tropical vine, the passion flower thrives throughout the world in tropical gardens and as a decorative houseplant. An arbor-climbing and decorative plant, passion flower goes by such other names as the Holy Trinity flower, maypop and passion vine. Propagating a passion flower plant in your home or garden requires a little patience, but it is a simple task that can be achieved.
Propagating by Seed
Prepare the planter box with an enriched soil mixture of worm castings, compost, sphagnum moss and potting soil. The sphagnum moss lines the bottom 3 inches of the planter and equal parts of the worm castings, compost and soil should reach the halfway point of the container. For a large container, 4 lbs. each of the ingredients should suffice.
Place three passion flower plant seeds about 1/4 of an inch into the soil of the planter box.
Cover the flower seeds with a 1-inch layer of sphagnum moss to keep it well insulated and to retain moisture and nutrients.
Water the plant seed with two cups of water every four days until the plant sprouts from the soil. Give the plant three cups of water once a week after it reaches an inch in height.
Propagating by Plant Cuttings
Obtain vine cuttings from a wild or domesticated passion flower plant. Alternatively, ordering passion flower plant cuttings from a reliable online source is a viable option.
Prepare a planter box as outlined in section 1.
Fill the cut gallon milk jug with water and 5 tbsp. of perlite powder.
Allow the cuttings to soak, with the cut ends in the perlite mixture, for approximately 48 hours.
Transplant the rooted plant cuttings into the prepared soil.