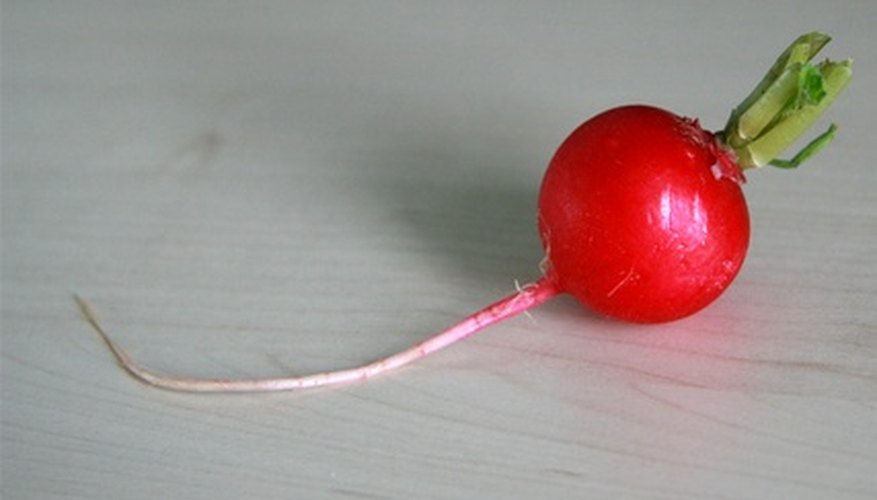 Create garnishes for your serving plates that are not only beautiful but a delicious treat for diners to munch on (if they desire). Using fresh fruits or vegetables from your garden, you may be surprised at the intricate and beautiful garnishes you can easily make using only a sharp paring knife. Try using fresh radishes and cutting them into the shape of beautiful flowers. Your cut radish flowers will be the delight of the dinner table.
Place the radishes into the colander and run cool water over them to wash them thoroughly.
Place the radishes on the cutting board and slice off the stems.
Hold a radish in your hand so the tip faces out. Position the paring knife at the top of the radish and angle the knife so you direct it outward along the side of the radish.
Cut through the top of the radish and down along the side of the radish to make a petal, cutting to separate the outer red surface from the white inside of the radish. Do not remove the petal, but rather stop cutting when you reach the bottom stem area of the radish. The petal must be as thin as possible.
Cut three or four additional petals in the same fashion all the way around the outer surface of the radish to make petals.
Fill the bowl with cool water.
Place the cut radishes into the bowl of water for up to one hour. The cool water will make the radish flower petals curl out attractively away from the center of the radishes.
Things You Will Need
Whole fresh radishes

Colander

Cutting board

Paring knife

Medium-size bowl

Cool water
References