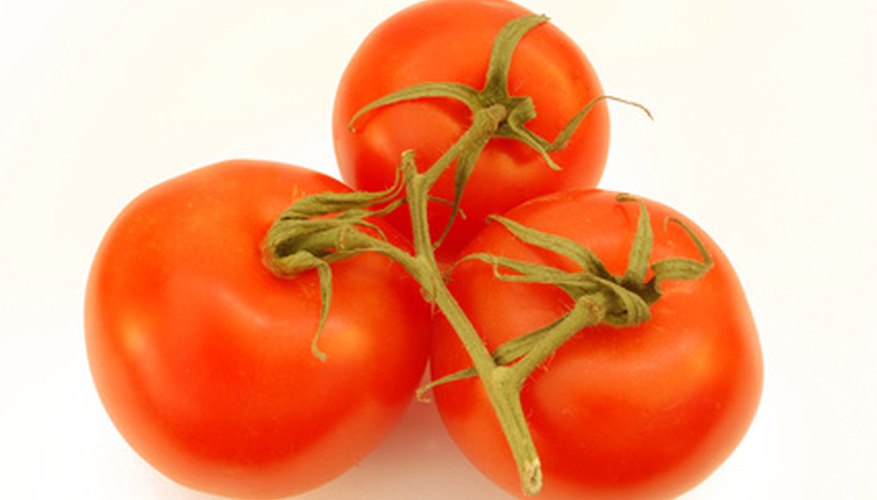 Gardeners who live in apartments or homes with small yards can benefit from growing a few fresh vegetables in containers. You won't be able to grow a bushel basket of large tomatoes, but you'll have success with a cherry tomato plant and other smaller veggies if you have a sunny balcony or patio. Select 12-inch or larger containers with drainage holes, and use a good potting soil mix.
Tomatoes
Most tomatoes are good candidates for growing in large containers, but you'll probably have the best success with smaller fruiting varieties such as Peacevine cherry, Chadwick cherry, Thai pink cherry, red pear cherry, yellow pear cherry, Roma paste, Ropreco paste, San Marzano paste or Amish paste. If you live in an area where the summers are foggy or cool, try Oregon Spring or San Francisco fog.
Cucumbers and Squash
Cucumbers add a refreshing crunch to summer salads. Bush cucumbers are better for containers than vining varieties. The following bush varieties are well adapted to container growing: salad bush, picklebush, spacemaster, midget bush pickler and bush champion. Most pumpkins take up large amounts of space and are not suitable for small gardens and containers. But these varieties of squash will do well in a container: Burpee's better bush, bushkin pumpkin, bush crookneck, bush acorn, jackpot zucchini and black magic zucchini.
Peppers, Hot and Sweet
Jazz up your stir-fry dishes with hot peppers such as Thai, Anaheim, Jalapeno, Serrano or one of the hottest of them all, the habañero. Green, yellow, orange and red bell peppers all work well in containers, as do Italian sweet, Alma, tangerine, red ruffled pimiento, purple beauty and others. Experiment with varieties to see what you like best.
Beans
Bush beans are a good bet for containers, and many varieties exist from which you can choose. Try Tavera bush, Provider, Blue Lake, royal burgundy, Roma bush, Bountiful stringless bush, Robert's royalty bush, red swan bush, Rose Creek snap bush, Long Lake giant snap bush, purple dove snap bush and others. If you like soybeans, try Shirofumi. You can grow pole beans in containers, but be sure to provide a stake or trellis to support them.
Herbs
Herbs are the perfect companions to vegetables. Many are perennials and don't require large containers. Grow sweet basil, marjoram, thyme and rosemary to complement your tomatoes, and dill to accent your cucumbers. Plus you can make a refreshing tea from spearmint, peppermint, lemon balm and many others.