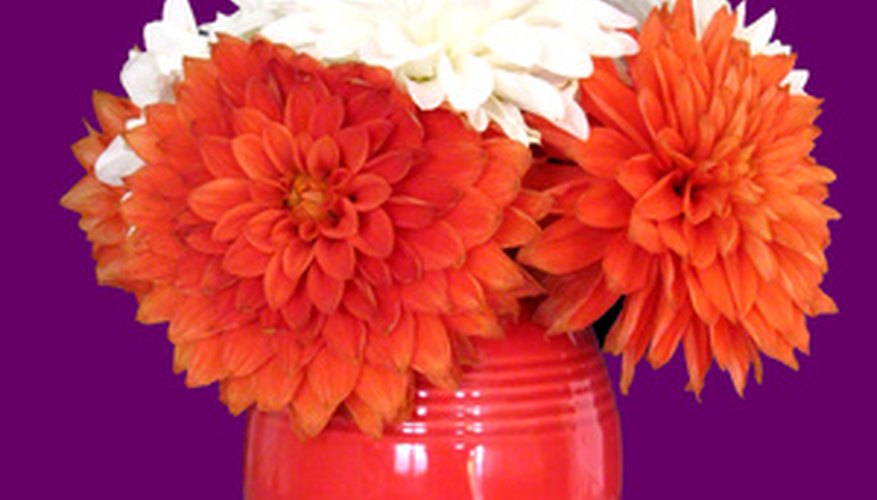 Vibrant dahlia blooms make a stunning cut flower bouquet, and if the blooms are properly conditioned, dahlias can remain beautiful for more than a week. If you grow your own dahlias, don't be squeamish about cutting a few of the beautiful blooms for a cut flower bouquet, as cutting the flowers will encourage the dahlia plants to continue blooming into autumn. Cut the dahlias early in the morning when the blooms are fresh and well-hydrated.
Hold the cut end of the dahlia stem over a candle flame or cigarette lighter for about 30 seconds, or until the cut end turns black. Searing the end will prevent the dahlia's milky sap from escaping through the bottom of the stem.
Scrub the vase with a mixture of nine parts water to one part household bleach. The bleach mixture will kill any bacteria in the vase.
Fill the vase with lukewarm water, then dissolve a packet of floral preservative in the water. If you don't have floral preservative, make an acceptable substitute with 2 tsp. lemon or lime juice, 1 tsp. of bleach and 1 tsp. of sugar in a qt. of warm water.
Arrange the dahlias in the vase in a way that they won't be overcrowded. Check the water level in the vase every day, and replenish it as needed. Replace the water and floral preservative every three to four days, or if the water looks cloudy.
Remove dahlias when they begin to wilt. Recut the ends, sear them as directed above, and return them to the vase. When the dahlias die, remove them immediately and discard them so they don't contaminate the remaining dahlias. Don't allow leaves or petals to fall into the water.