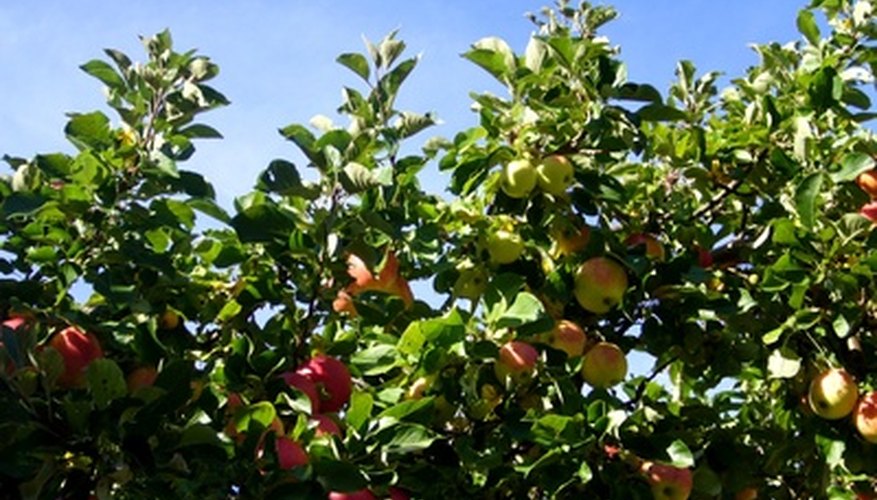 Washington state provides an ideal climate for growing many varieties of fruit trees. Commonly recognized as a state that produces many types of quality apples, Washington also offers the perfect climate for some other types of fruit trees. Commercial growers select varieties of fruit trees based on the market, as well as certain climate considerations. Home gardeners and orchard hobbyists enjoy growing an assortment of fruit trees based on individual tastes and landscape designs.
Apples
Early varieties of apples grow well across the state of Washington, while some long-season varieties require more time to ripen and are not suitable for Washington. Sweet apples such as Sunrise and Gala produce tasty, crisp apples. Both varieties produce large harvests in Washington. McIntosh apples grow well in the cool maritime climates found in Washington. These varieties ripen in September and are quite productive under ideal conditions. Many types of heirloom apples, such as Tompkins King, Golden Russet and Baldwin still grow in Washington orchards, continuing a tradition that is more than 100 years old.
Pears
Many types of pear trees adapt especially well to areas of Washington. Varieties that thrive in Washington's heavy soils include Bartlett pears. These aromatic pears provide tasty fruit for snacking and canning. These pears reach maturity in time for harvesting during early and mid-September. Bosc pear trees produce rich, firm fruits used for culinary purposes. This pear matures in time for late September harvesting. Asian pears, such as Atago and Mishirasu adapt well to many areas of Washington's warmer areas. These sensitive pears require protection from early spring frosts in cooler areas of Washington.
Plums
Washington is home to various types of plum trees. The majority of plum trees require cross-pollination in order to produce fruit. Early blooming plums suffer in cool areas of Washington where they experience freezing temperatures after blossoming. Some tasty European plums grown in Washington include Mirabelle and Early Laxton. Home gardeners often include these two types of plum trees in their landscapes and yards.