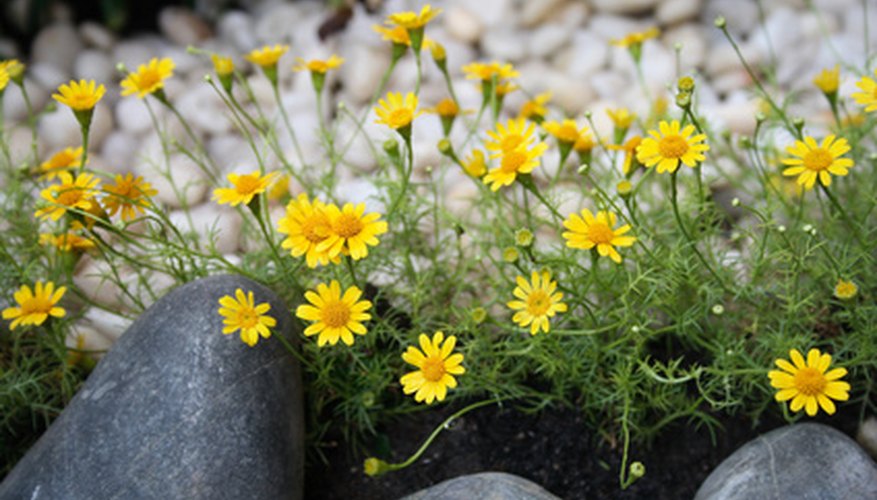 Rock gardens are often used by homeowners to landscape a steep slope or hill in their yard. Using rock gardens as decorative solutions for trouble spots allows you to design a naturalistic-looking garden filled with interestingly random-shaped rocks. Place a few hardy plants among the rocks for an added splash of color. Vines and creepers are good choices and grow well in crevices and along rocky terrain.
Mountain Sandwort (Arenaria montana)
The pretty, star-shaped white flowers of the Mountain Sandwort will brighten any rock garden. This creeping evergreen grows to about 6 to 12 inches tall and has gray-green leaves that are 3/4 to 1 inch long and hairy to the touch. The Mountain Sandwort thrives in sunny areas and in well-drained sandy to sandy loam soil. It is drought-prone due to a shallow root system and requires regular watering. Flowers bloom in April and are about 3/4 to 1 inch in length. It has no known pests.
Snow-in-Summer (Cerastium tomentosum)
A short-lived, low-growing, creeping plant, the Snow-in-Summer prefers well-drained, sandy soil. It is fast spreading and thrives in rock gardens. The Snow-in-Summer produces a 1-inch-long, white flower that blooms in June. Although it does well in full sun, Summer-in-Snow is intolerant of high heat and humidity. It grows 4-6 inches tall and has silvery-grey foliage. Susceptible to few pests, the Snow-in-Summer is also rabbit and deer resistant.
Creeping Phlox (Phlox subulata)
Considered a quick spreading plant that is often used in cracks and crevices of rock gardens, creeping phlox grows well in drained sandy or loamy soil and prefers full sun exposure. Plants produce a small 1-inch pink flower in early spring. Keep your phlox healthy by pruning it after it's done flowering. Phlox grow to be 4-8 inches in height and have dark green leaves. Creeping Phlox are susceptible to spider mites, stem and root rot and may be eaten by rabbits.
Winter Creeper (Euonymus fortunei)
Winter Creeper is an evergreen that has multi-colored shades of green foliage and will grow up to 6 inches high. It's fast-growing and easy to maintain and is best used as ground cover or for covering walls and as an accent in rock gardens. The Winter Creeper adapts to most soil conditions, preferring acid loam soil. This creeper will not do well in extremely wet areas. Winter creepers can flourish in either full sun or shady spots and won't require a lot of pruning. They don't produce a flower and are susceptible to windburn, scale and crown gall.
Creeping Baby's Breath (Gypsophila repens)
Useful in edging or growing in rock gardens, Creeping Baby's Breath reaches a height of approximately 4 to 8 inches and spreads over areas quickly.The plant has trailing stems with blue-green leaves and produces light pink and white flowers in the early summer months. Creeping Baby's Breath prefer well-drained soil conditions and full sun exposure. They are easy to grow and require little attention but do need regular watering. Creeping Baby's Breath is a short-lived plant and is susceptible to stem and crown rot.