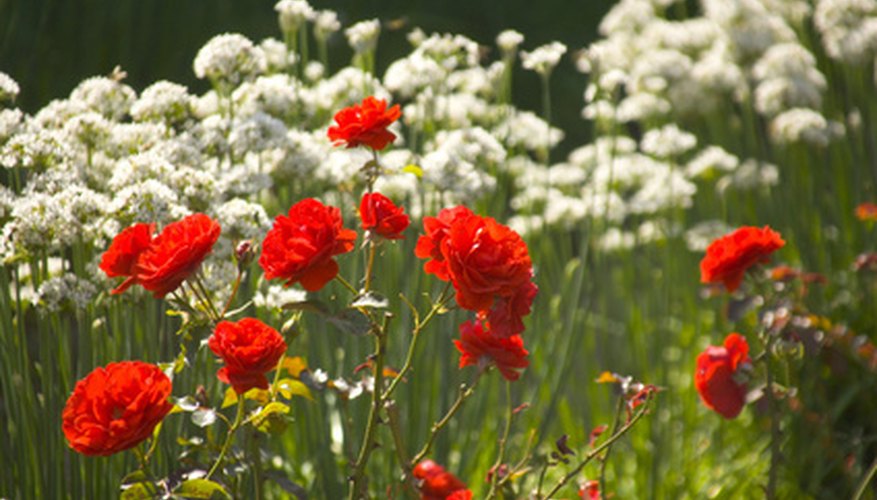 Disneyland holds a special place in many hearts due to its reputation for fun and excitement. In addition to rides and attractions, Disneyland contains beautiful gardens and landscaping designs. With dozens of landscaping employees working around the clock, Disneyland boasts numerous exotic plants, as well as bedding plants, trees, shrubs and vines. With various, individual themes, Disneyland gardens exhibit plants intended for specific climates and soil conditions. In fact, updating a theme in a single area of the park requires complete replacement of trees and plants.
Trees
Disneyland boasts hundreds of varieties of trees throughout the amusement park. Elm trees line the edges of the main street, where the theme reminds visitors of America during the early 1900s. Disneyland's vast array of trees includes a 1-foot tall dwarf spruce and 75-foot tall eucalyptus trees.
Flowers
Many varieties of flowers blossom across the landscape. Many of Disneyland's flowerbeds follow color themes, adding brilliant splashes of color along sidewalks, streams and pathways. Petunias, pansies and begonias brighten planters, pots and window boxes. Snapdragons and black eyed Susans welcome visitors to the area near New Orleans Square. A Bugs Land provides the perfect setting for pansies and whirligigs.
Herbs
Although not commonly thought of as decorative landscape plants, herbs and greenery add interest to many areas of Disneyland's parks. Rows and rows of green basil grow in the attractive Toontown segment of the park. Rosemary and garden sage thrive in the area of Tomorrowland. This section of the park is also home to sweetly scented lavender plants.
Groundcovers
Groundcovers thrive in many areas of the park. From rock gardens to hilly slopes and near ponds, groundcovers spread across the surface of much of the park's landscaped areas. Areas of sweet alyssum near the Park Hub provide interesting carpets of small, white and purple blossoms. Lobelia provides an attractive edging in Fantasyland, while purple shamrocks grow in the area of New Orleans Square.