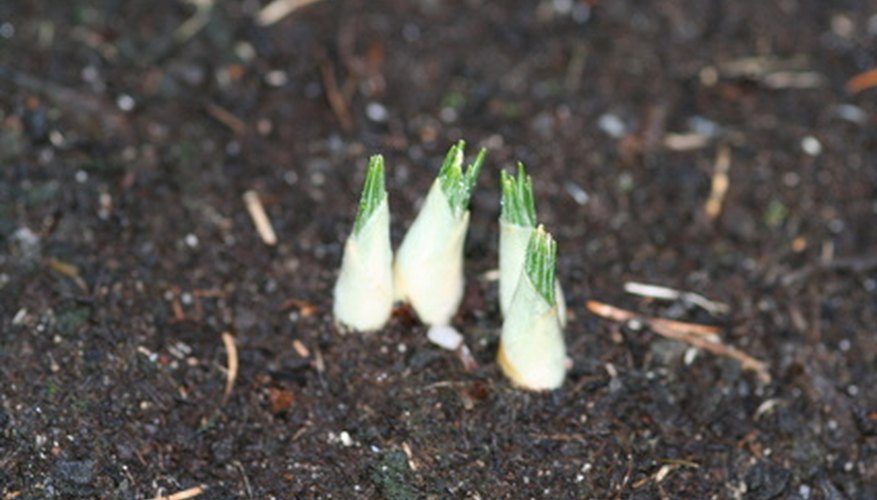 Summer flowering bulbs give the garden more color at a time when most of the spring bulbs have faded away for the year. There are lots of colors and types of bulbs to choose from to brighten up your flower or container gardens. Always purchase the largest size bulb. This is a good sign that the bulb has stored an abundant amount of energy and will produce large, healthy blossoms. Check to make sure that there are no soft or rotting spots on the bulbs. Plant summer bulbs in groups of the same type to create dramatic color spots.
Falling Stars
Falling stars (Crocosmia spp.) is a perennial bulb that produce 2- to 3-foot long, ribbed leaves that are sword-shaped. Long flower stalks appear with large, tubular-shaped red blooms in summer. The flowers line up along the top of an arching stem. Do not remove the leaves after the flowers are done blooming. They protect the bulbs from winter weather. In early spring before the new shoots appear, lift and divide the falling stars bulbs.
Orchid Pansy
Orchid pansy (Achimenes spp.) is a summer flowering bulb that grows 12 to 18 inches high. Dark green, triangular leaves cover the stems. Blue, peach, pink, red, orange, white, purple or yellow blossoms have five large petals. This bulb is injured when temperatures fall below 50 degrees F. Grow the orchid pansy in a container that you can protect during chilly temperatures. Keep the soil moist and place in a shady location to limit its exposure to direct sunlight.
Pineapple Lily
Pineapple lily (Eucomis spp.) is a perennial bulb that grows a top-knot that resembles the top of a pineapple. This summer flowering plant has star-shaped flowers that cluster together on the top of a thick stem that is about 6 inches long. Glossy, green leaves are strap-shaped and reach 1 to 2 feet long by 3 to 4 inches wide. Plant these bulbs outside after all danger of frost has passed or leave it in a container to protect it from freezing temperatures.
Spider Lily
Spider lily (Crinum spp.) is a bulb that requires full sun exposure in the morning. This summer blooming bulb grows 24 to 48 inches tall and has wide, grass-like green leaves. The fragrant blossoms have six narrow petals that bend backwards in pink and white. Once growing and blooming, this lily does not like to be disturbed for the season. Spider lilies suffer winter damage when temperatures fall below 25 degrees F.