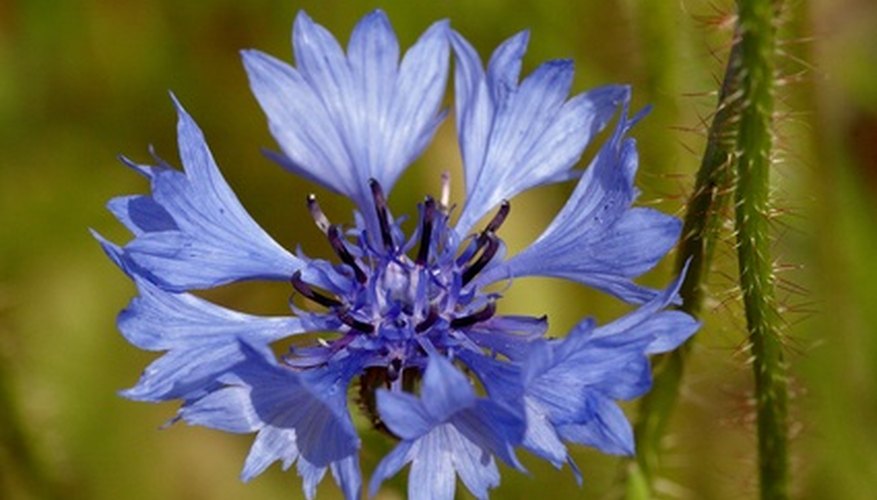 The periwinkle blue centaura flower (Centaurea cyanis) is also commonly known as blue bachelor's button, basket flower and cornflower. It is one of the most beloved annual flowers and has been in cultivation in the United States since Colonial America. Periwinkle blue centaura grows to approximately 2 1/2 to 3 feet tall and produces striking periwinkle-blue thistle-shaped flowers. Plant periwinkle blue centaura plants in full sun and make sure they are provided rich, fertile soil.
Starting Periwinkle Blue Centaura Indoors
Scoop a seed starting compost mix into peat pots to within 1/4 inch from the top of their rims. Pack the soil in each of the cells until it is well compacted.
Put the peat pots into a sturdy plastic tray, like a watering tray. Make sure the tray does not have drainage holes.
Plant 2 to 3 periwinkle blue centaura seeds into each of the peat pots. Set the seeds firmly into the soil using a pair of tweezers or the back side of a metal spoon.
Sprinkle 1/2 inch of the seed-starting mix .over the top of the seeds. Mist the soil in each of the peat pots using the sprayer bottle. Cover the entire watering tray, or each of the peat pots, with a layer of clear plastic wrap. Secure the plastic wrap using a rubber band if necessary.
Transfer the tray containing the peat pot into a warm location within your home. Keep the soil in the pots on the moist side. Loosen the plastic wrap if needed so you can mist the seeds with water, or add a little water to the tray. Germination of periwinkle blue centaura seeds typically begins in approximately seven to 10 days.
Transplant the periwinkle blue centaura seedlings when they have grown to about 1 1/2 to 2 inches tall.
Transplanting Periwinkle Blue Centaura Seedlings
Work the soil in the planting area to a depth of between 6 and 8 inches using a garden fork or a shovel. Lay out over the planting area a 1 to 2 inch layer of peat moss, compost or aged manure. Mix the organic matter into the soil thoroughly.
Dig holes for the periwinkle blue centaura seedlings that are about 1 1/2 times the width of the peat pots and precisely the same depth. Space each of the planting holes between 12 and 14 inches apart.
Place the periwinkle blue centaura into one of the previously created planting holes. Fill the planting hole with the amended garden soil.
Water each of the seedlings thoroughly. Push in a 10- to 12-inch high planting stake near each of the seedlings to offer them a little support as they grow. Spread slug and snail bait around the periwinkle blue centaura seedlings if your garden has a slug or snail problem.