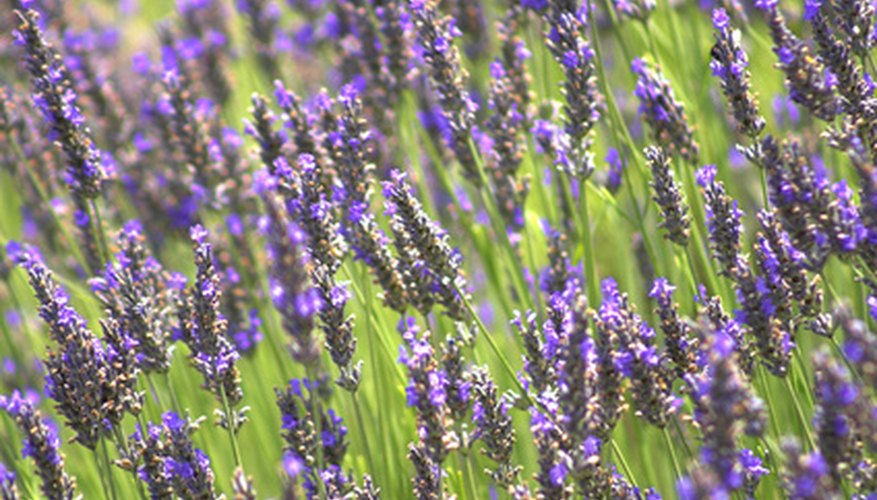 English lavender (Lavandula angustifoila) also known as true lavender is a member of the mint family. Famous for use in scented soaps and oils, English lavender works best when it is planted in containers or used as borders in gardens or as edging along paths and side walks. Caring for English lavender is easy--simply provide proper growing conditions and you will enjoy the many benefits of this sweet smelling plant.
Appearance
English lavender is technically a sub shrub, meaning it acts like a perennial but has woody stems. It reaches a height of 12 to 18 inches and spreads about 2 to 3 feet when fully grown. The plant has simple, oblong-shaped leaves that are gray-green in color. Foliage does not change color in the autumn months. English lavender produces purple-colored, pleasantly scented flowers in the late spring through the midsummer months.Their aromatic blooms attract butterflies and bees and other insect pollinators to your garden.
Cultivation
Plant lavender in the spring or fall. English lavender prefers slightly alkaline soil but will grow well in sand, clay and loam as long as the area is well drained. Proper drainage encourages deep root growth which helps English lavender endure the harsh winter weather. Space plants 24 to 36 inches apart to allow spreading. Cover plant crowns with mulch during the winter months. Prune after flowers bloom to promote new growth.
Pests
English lavender is fairly pest resistant and is often used as borders in gardens to keep a wide variety of troublesome insects and animals away. Deer and rabbits, animals who will usually eat anything in a garden, find English lavender offensive and they will not eat your plants. Aphids, ants and roaches do not like the scent of lavender and will not bother your plants.
Disease
English lavender plants are healthy and seldom have issues with disease.They may experience root rot if left in wet, poorly drained locations for an extended period of time. Lavender plants are susceptible to fusarium, a fungi that causes vascular wilts in plants. Signs of fusarium wilt are yellowing of the leaves, lesions on stems near the crown of the plant and wilting of the plant. It can be treated by using a proper solution of fungicide
Uses
Oil of the lavender plant is used in making fragrances, soaps and for scenting other items such as potpourri. Essential oils from the English lavender plant are used in aromatherapy and are said to have a soothing, relaxing affect on the nervous system. Oils can be used as a skin antiseptic to help heal burns, wounds, bites and sunburn.
Dried flowers are often bound together in small bundles to make aromatic decorations. If you plan to dry English lavender flowers, you must harvest them before they open. Hang flowers upside down in a dark cool place and allow them to dry out before using them.
Small quantities of lavender may be used in soup, salads and stews to add flavor. Fresh or dried flowers are used in teas.