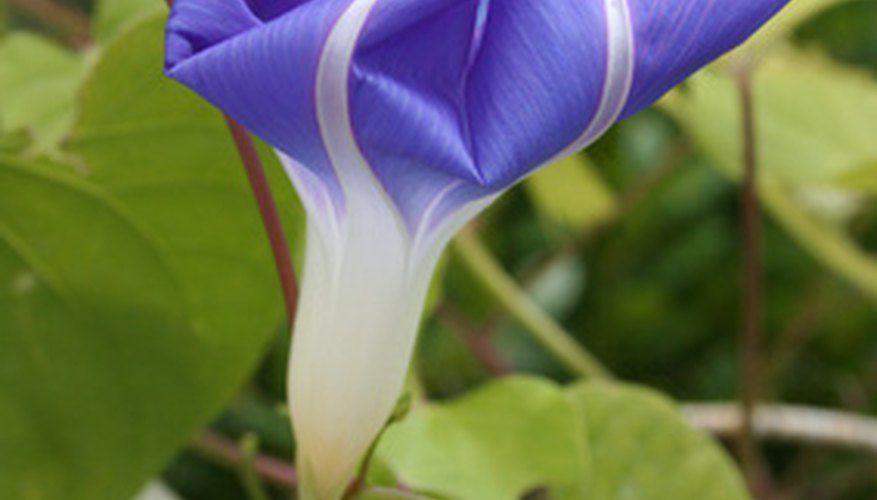 Ground covers may just the answer for your difficult garden area. They help stop erosion, grow well in shady spots and end the need for constant mowing. Ground covers have shallow root systems that allow them to spread far and wide. Evergreen ground covers will ensure your garden stays green during the winter months, and many varieties have blue flowers in spring and summer.
Blue Star Creeper
Blue star creeper (Laurentia fluviatilis) is light green, evergreen ground cover that grows 4 to 5 inches tall. It has tiny leaves and 1/4-inch light blue flowers in spring and summer. It will spread rapidly and can become invasive, though it is easy to control. While it prefers partial shade, blue star creeper will grow in full sun if given enough water. It grows in USDA hardiness zones 5 to 10.
Silver Leaf Sage
Silver leaf sage (Salvia daghestanica) is a slow-growing ground cover with silvery white foliage. Its dark blue flowers bloom in late spring to early summer. It grows 8 inches high and is extremely drought tolerant. It requires full sun and little watering. Silver leaf sage grows in USDA hardiness zones 5 to 10.
"Bowles" Periwinkle
Periwinkle (Vinca minor) is a low-growing broadleaf vine that grows well in partial to heavy shade. The "Bowles" variety is more of a clumping-type plant with light-blue flowers in the spring and summer. It will grow to 6 inches tall and needs little attention. "Bowles" periwinkle is hardy to USDA zone 4.
Carpet Bugle
Carpet bugle (Ajuga reptans) quickly forms a dense mat in your garden. It grows 4 to 12 inches tall, depending on the variety, and thrives in shade or partial sun. It will require frequent watering because of its shallow roots. Blue flowers appear on upright flowers stalks from May through mid-June. Carpet bugle is hardy to USDA zone 5.
Prostrate Speedwell
Prostrate speedwell (Veronica prostrata) forms a lush, dense mat in full sun to part shade. It prefers average, well-drained soil and grows 6 to 8 inches tall. Its deep blue flowers bloom from May to June. Sometimes called harebell speedwell, this plant will naturalize quickly and grows in USDA zones 4 to 8.