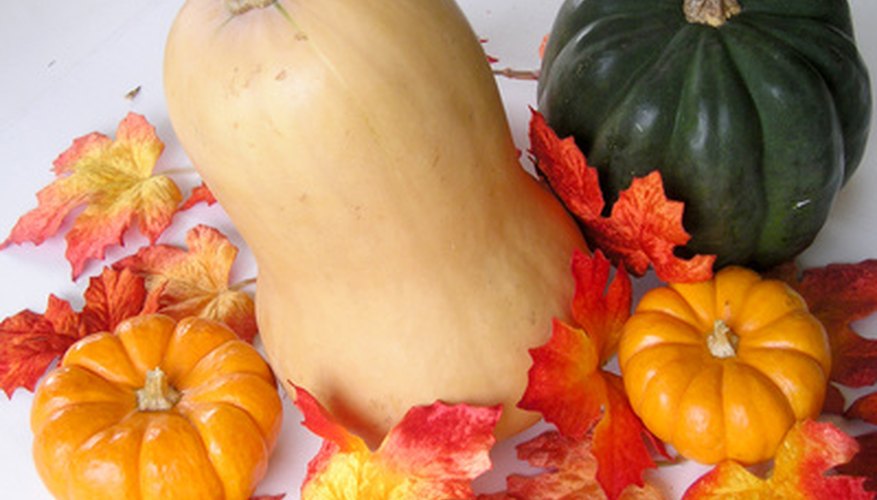 Butternut squash is a pear-shaped winter fruit that belongs to the gourd family. The squash grows on a vining plant. Although other members of the squash family date back to ancient Egypt, butternut squash was first cultivated in 1944.
Description
The butternut squash vine produces blossoms that indicate where the fruits will grow. Butternut squash have beige skin and orange flesh. The skin of the squash is very thin, and the internal seed cavity is small. This means that the butternut squash yields more edible flesh than other varieties of squash.
Planting
Butternut squash grows well in home gardens. Sow seeds 1 inch deep, 4 feet apart from one another to give the vines plenty of room to grow. Butternut squash prefers to start in warm soil. Seeds sown during the winter need to be started in individual pots, and seedlings can be planted in the ground after frosts have passed. Plant the seedlings on mounds of soil, 4 to 6 feet apart from one another.
Care
Once the vines are established, they need little care. The plants require watering once or twice a week but should not be over-watered, as this leads to rotting roots and vines. Butternut squash is harvested after the vines dry out and die back, usually in September or October. The harvested fruit will keep for up to three months when stored in a cool, dry place.
Cooking
The flesh of the butternut squash can be cubed and roasted in the oven or baked or mashed in the same manner as potatoes. Butternut squash is also used in soups and stews to add starchy hardiness to the dish. This squash has a smooth texture, free of strings and graininess. The mild flavor and texture help it to absorb other flavors that it is cooked with. Butternut squash is a savory dish if roasted with herbs. Mashed and mixed with sugar and spices, butternut squash rivals pumpkin in a pie.
Nutrition
Butternut squash is fat-free and contains 1 gram of protein per 1/2-cup serving. It also contains magnesium, potassium and vitamin B6 and has high levels of vitamins A and C. The carbohydrate count is 11 grams per serving. The beta carotene found in butternut squash may lower the risk of certain cancers by fighting free radicals in the bloodstream and organs. Eating butternut squash also adds fiber to the diet, which may help lower cholesterol levels and the risk of colon cancer.