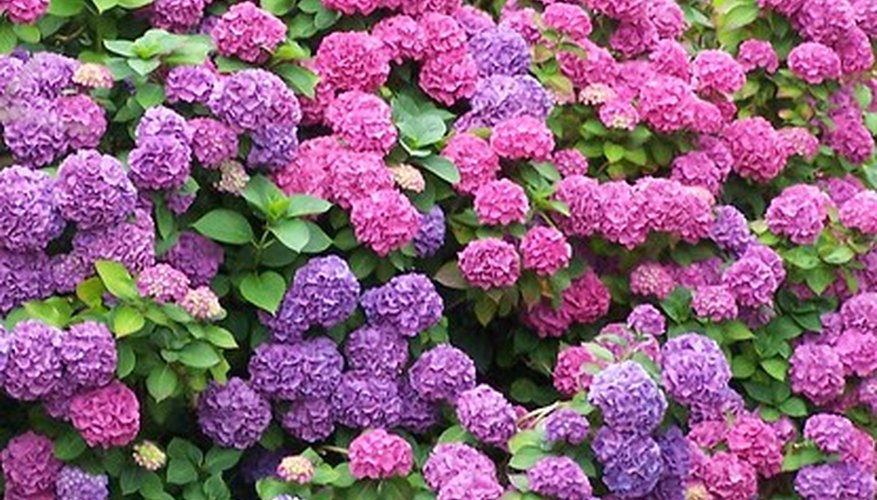 Hydrangeas are popular garden plants and can add a colorful and striking accent to the landscape. They are prized for their large and impressive flower heads, each holding hundreds of individual blossoms that often look like large cones or puffballs. There are a number of hydrangea species that are cultivated in the Untied States, each with their own distinct characteristics.
Types
Hydrangea macrophylla is the most popular of the hydrangeas and is also called the French, bigleaf or florist's hydrangea. Another larger species is Hydrangea paniculata. Hydrangea quericifolia has dramatic foliage which is different from any other type of hydrangea. Hydrangea arborescens is recognized for its large flowers. Though not as well known, the climbing Hydrangea anomala is becoming more popular.
Leaves
The leaves of most Hydrangeas are heart-shaped, slightly shiny, and deeply veined with serrated edges, with a couple of exceptions. However, H. anomala leaves tend to be smoother than those of other hydrangeas, and H. quercifolia is also known as the oak leaf hydrangea because its large leaves have 4 or 5 lobes with pointed ends, resembling oak leaves. The leaves also change color in the fall, turning from bright red to deep purple.
Flowers
The blooms of H. macrophylla come in a range of colors from greenish white to pinks and reds, blues and purples. The 'mophead' variety has a large, rounded cluster of blossoms. The 'lacecap' variety has a cluster of tiny flowers in the center, ringed by much larger flowers. H. paniculata flowers are white and sometimes change to pink as they mature. The flower clusters tend to be smaller than those of H. macrophylla and are rather cone-shaped. The flowers of H. quercifolia are usually white, grow in large cone-shaped clusters and come in single or double-petaled varieties. Another white-flowered hydrangea, cultivated varieties of H. arborescens produce large quantities of puffball-shaped blossoms that can grow to one foot in diameter. Wild native varieties have small flowers in the center, ringed with larger blossoms. As the blossoms age, they tend to take on a greenish hue. The blooms of H. anomala are white and also have small flowers in the center, ringed with larger blossoms around the rim of the bloom.
Form
H. Macrophylla plants grow as rounded shrubs and can grow between 4 to 6 feet. H. paniculata can grow to between 10 and 15 feet tall and just as wide. Oak leaf hydrangeas grow to 6 to 8 feet in height and width, although there are cultivars that are smaller. H. arborescens are smaller plants, rarely growing more than 5 feet. H. anomala is a true climbing vine, growing up structures and can reach 80 feet.
Region
H. macrophylla are commonly grown in USDA hardiness zone 6. H. paniculata is the most cold hardy of the hydrangeas in the United States and can be found in hardiness zones 3 through 7. Oak leaf hydrangeas are more often found in drier soil conditions in woodlands throughout the southeastern United States. H. arborescens thrives in zones 5 through 9 in the east and H. anomala can grow well in hardiness zones 5 through 7.