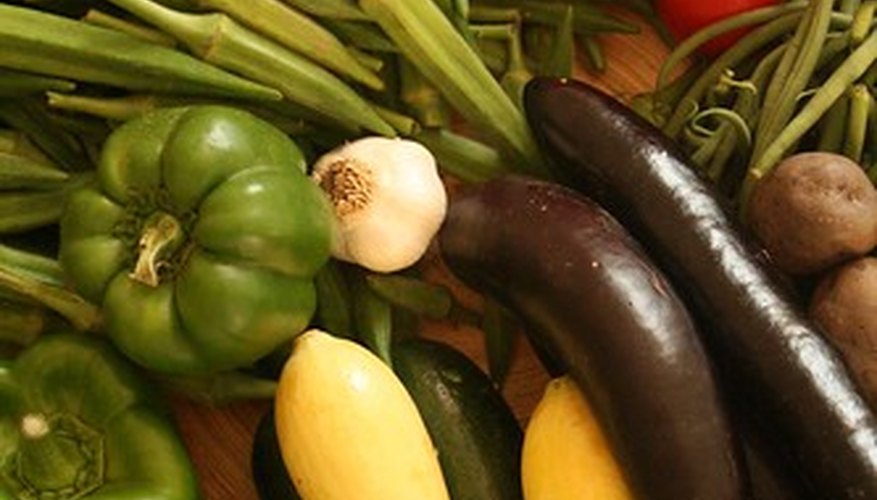 Most people enjoy fresh vegetables from the garden but either don't have the space or the time for a large garden. Planting vegetables in containers is an ideal choice for those who have small yards, live in apartment complexes or only want a small harvest for themselves and their family's immediate use.
Vegetables
Vegetables grown in the ground can be grown in containers without a problem. The key is to provide space in the container for the roost system to develop. Tomatoes, lettuce, squash, pole beans, radishes, peppers, cucumbers, carrots, eggplant, onion, spinach, beets, broccoli, Brussels sprouts, and cabbage are good choices for containers.
Sun Exposure
Whether vegetables are planted in the ground or in a container, they need adequate sunlight to grow properly. A minimum of five hours of direct sunlight is ideal for vegetable growth. The advantage of container gardening is the ability to move containers as needed to receive sunlight.
Containers
Containers must be large enough to accommodate root growth of vegetables and allow for proper drainage. Insufficient drainage can cause root rot. Containers for vegetable gardening may require drilling of additional holes to allow for better drainage. Containers set on hard surfaces like concrete patios need wooden blocks to raise them up to allow for better drainage. Containers may be made of wood, plastic, clay, ceramic or metal. Choose containers at least 6 inches in diameter.
Soil
The best choices for soil in containers will allow proper drainage while retaining proper moisture to promote growth. Commercial soil can be bought for container gardens. Homemade planting medium can be made by equally mixing sand, loamy soil from the garden or yard, and peat moss. Sand and peat moss can be purchased from local home improvement and garden centers. Mix together, then heat in an oven at 210 Fahrenheit degrees for one hour. The heating will kill fungi, bacteria, insects and weed seeds. Add a minimum of 8 inches of soil to each container.
Planting
When growing vegetables in containers, you may plant established seedlings or plants or scatter seeds on the soil. When planting seeds, follow the directions and recommendations on the seed packet. Plant more seeds than necessary and plan to thin seedlings after sprouting.
Waters
Regular watering is essential for vegetables planted in containers. Most vegetables growing in containers must be watered daily. Always water early in the morning before the heat of the day. Use a watering can or a sprayer attachment for your garden hose. Water the soil around the base of the plant as opposed to the leaves.