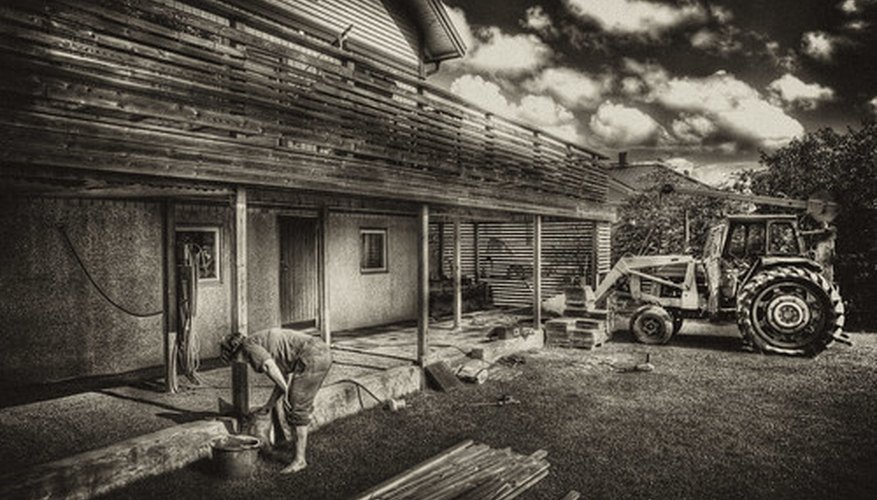 Image by Flickr.com, courtesy of Erik Söderström
The number of small farms in the United States is increasing, according to the U.S. Department of Agriculture. Nearly 300,000 farms have begun operation since 2002. If you are pondering starting a small-scale farm or live on a large tract of land and need a rugged tractor to carry out chores, the purchase of a Ford 3000 tractor could be a wise investment.
History
The Ford 3000 tractor was designed to be used in an agricultural setting. This model was manufactured between 1965 and 1975. It was produced by Ford at its manufacturing facility in Highland Park, Michigan. The last models that were produced in 1975 retailed for $6,300.
Engine
The Ford 3000 tractor engine is a 47 horsepower, three-cylinder engine. The cylinder block of this engine is made from heavy-duty cast iron. There are two varieties of this engine, one that runs on regular gasoline and one designed for diesel fuel. It holds 13 gallons of fuel and 8 quarts of oil.
Transmission
The tractor has a manual transmission. The options are four speeds, eight speeds or 10 speeds forward and one reverse speed. The 10-speed transmission is a Select-O-Speed transmission, which is a Ford trademark.
Size
The tractor weighs 3,700 pounds without any attachments added on. The wheelbase is 75.8 inches, which is about the same size as the other models manufactured by Ford during the same time period.
Standard Equipment
Standard equipment on this model tractor includes a tachometer-hour meter, fuel gauge, oil pressure warning light, generator warning light and water pressure gauge, which are located on the lighted instrument panel. This tractor is also equipped with two front headlights, a taillight and a flashing safety light for traveling on roads. A deluxe seat, vertical exhaust and a toolbox round out the features
Optional Equipment
Power-assisted steering is an optional piece that could be installed by the manufacturer. Differential lock is also an available option. This feature allows tractor tires to seek traction when driving on difficult ground, propelling the tractor forward. It automatically disengages when no longer being used. Power-adjusted rear wheels and horizontal exhaust are two other options that might be included on the Ford 3000 tractor.
Accessories
Accessories that can be purchased for the Ford 3000 tractor include a radio and canvas cab for operator comfort. Front wheel weights, rear wheel weights and a bumper with weights can also be added. A grease gun holster and tire pump can be purchased to aid in tractor maintenance. An implement work light and switch and a slow-moving vehicle sign round out the choices of accessories.