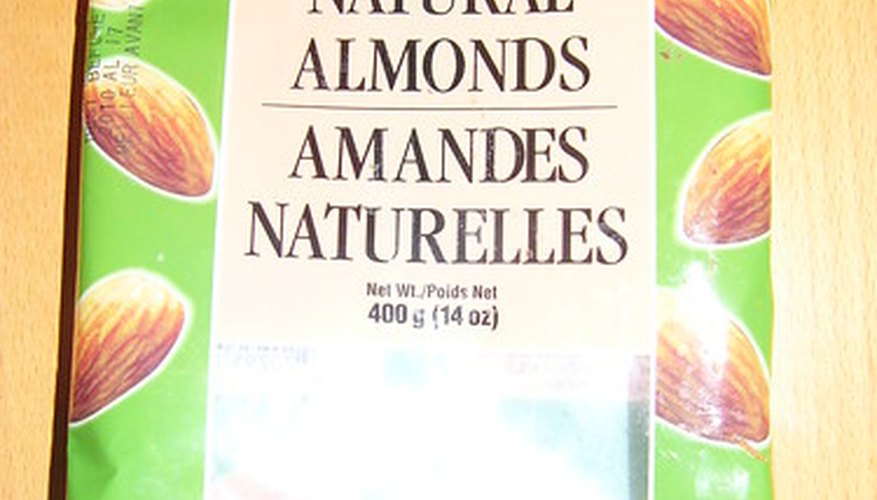 The almond tree is part of the rose family and produces a fragrant flower in combinations of pink and white that give way to clusters of tear-drop-shaped nuts. Almonds are high in protein and low in carbohydrates, and the oil from the nut is used to make beauty products. Almond trees have a canopy of about 10 to 15 feet and are not self-pollinating. It is necessary to have at least two almond trees so that bees can cross-pollinate.
Water and Food
Almond trees require regular watering to allow the root system to thrive. Trees should be watered weekly, so if you live in a zone with long periods of dry weather, you will have to water by hand. It is beneficial to construct a soil basin near the drip line of the tree and flood this area weekly in the first year, then every other week until the tree is mature, according to Wegman's Nursery. The trees require soil that has a significant amount of phosphorus, which you can add directly or as a phosphorus-heavy fertilizer. Before planting an almond tree, prepare the ground with phosphorus-rich soil and then till this area once a quarter to insure that the phosphorus is available to the tree root.
Pruning
Almond tree limbs grow out of new growth, so the tree should be pruned at least once a year, when dormant, to remove dead wood and sucker branches. Pruning may be done with shears by hand for low or small limbs and with a chain or pole saw for higher or bigger limbs. Wegman's Nursery also recommends removing dead or diseased flowers or nuts, which should be harvested when the shells begin to split. Diseased almond limbs, flowers and nuts should not be composted.
Pests and Fungus
Aphids, caterpillars, spider mites and Spanish wasps are the key insects that are attracted to almond trees. The plants are also susceptible to powdery mildew and molds. Organic pesticides may be used to control aphids and mites, whereas caterpillars may be washed from the tree with a sprayed-on mixture of household dish-cleaning soap and water.
Weather
Almond trees produce their harvest in the fall and enjoy hot summers and cool winters, but they cannot withstand freezing temperatures. The 1997 "Sunset National Garden Book" states that almond trees are best planted in USDA Zones 5 to 8, which includes California, the largest producer of almonds in the U.S.
Bearing Nuts
According to the "Sunset National Garden Book," you must have two almond trees in order to get fruit, and the trees take a minimum of three years to produce fruit. DavisWiki says that almond trees offer their best nut production in years six to 10 but can produce nuts for up to 50 years.