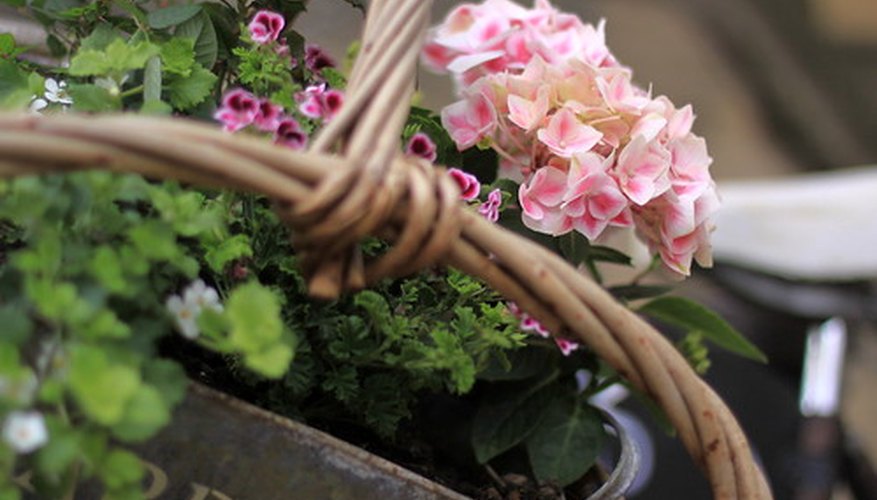 Image by Flickr.com, courtesy of jenny downing
Ticks are insects that are detrimental to the health of animals and humans. If you live where the deer tick (Ixodes scapularis) exists, a bite from this insect can cause Lyme disease or Rocky Mountain spotted fever, so you'll want to learn ways to keep them away. Even if your region has no deer ticks, all ticks are unpleasant and sometimes difficult to control. Natural remedies such as the essential oil of rose geranium can help.
What is the Rose Geranium?
The rose geranium is part of the large Geranium plant family native to South Africa, Madagascar, Egypt and Morocco. It is called Pelargonium graveolens in the botanical world. It's one of the scented geraniums, and has more deeply cut leaves and smaller flowers than the geraniums you might grow in your garden. But the scent is lovely — it's a combination of roses and lemon, with a hint of apple. Essential oil is extracted through steam distillation from the leaves of this plant when they begin to fade and turn yellow. It is said to help repel fleas, ticks and other bothersome insects when you apply it to your skin or on your pet.
Uses of Rose Geranium Oil
Rose geranium oil has been used for far more than flea and tick control over the centuries because the plant has many beneficial properties. These properties are believed to make it useful as an antiseptic, diuretic, deodorant, styptic, vermifuge and vulnerary. Some claim that inhaling the oil can lift the spirits and help relieve depression and anxiety. It is also useful for skin ailments such as oily conditions, burns, ulcers and other wounds. Commercial tick repellent products, such as Quantum's 100 percent Natural Herbal Skin Conditioning Spray, often include the oil of rose geranium.
Using Rose Geranium Oil on Humans
Make a skin oil by combining 2 tbsp. of almond oil and 10 to 25 drops of rose geranium oil and then rub it on your skin or clothes. Always mix essential oils with carrier oils or lotions before you apply them to your skin.
Using Rose Geranium Oil on Dogs
If you put several drops of rose geranium essential oil on your dog's collar, many people believe it will keep ticks away from your pet. You can also drop rose geranium oil directly onto a tick that has burrowed into your dog and expect the tick to extract itself in short order. An essential oil blend containing lemon, rosemary, water, rose geranium oil, other essential oils such as citronella and vodka is said to be effective as a spray that prevents ticks from attacking.
Using Rose Geranium Oil on Cats
Conflicting reports exist about the use of rose geranium oil on cats. Some people believe that essential oils having phenols or ketones that can result in a buildup of toxins in your cat's body. Other people say they have used rose geranium oil for tick control on cats with no apparent problems. Check with your veterinarian if you want to make sure you won't harm your cat by using essential oil of rose geranium.