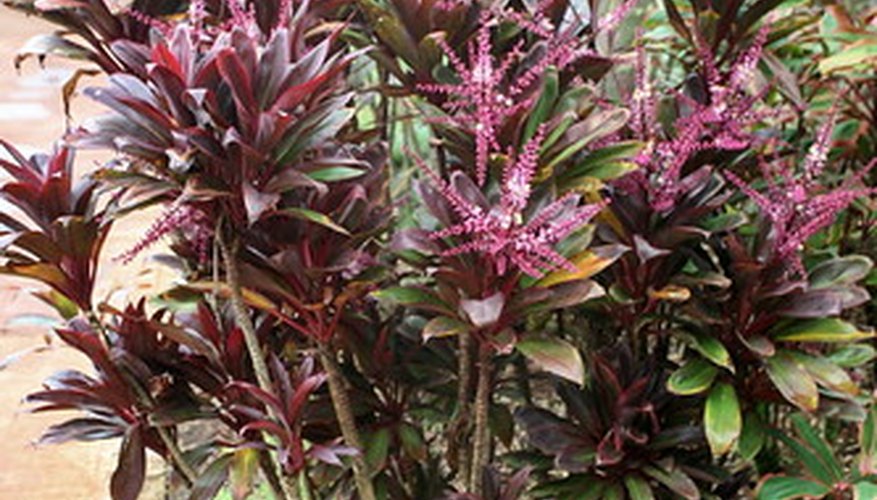 Image by Flickr.com, courtesy of Cliff
A member of the Bromeliaceae family, pineapple plants are native to Paraguay and southern Brazil. Tolerant to about 28 degrees Fahrenheit, pineapple plants are considered tropical and are nearly drought tolerant. Pineapple plants can grow to five feet and have an average spread of 3-4 feet. In the U.S. pineapples are grown all over Hawaii and in certain parts of California.
Where to Plant
Plant pineapple plants on the south, or warmest, side of a yard. According to the California Rare Fruit Growers, plant pineapples in sandy soil with a pH between 4.5-6.5 for best results. Soil may be treated with sulfur to lower the pH if it is too high, but should be tested before planting. While pineapple plants can withstand low temperatures, they cannot withstand frost and should be covered if there will be a long period of cold temperatures.
Watering and Feeding
Pineapple plants are able to withstand drought-like conditions, though a lack of water will affect the size of the fruit. According to the Pineapple Research Institute of Hawaii, soil around the plant should be kept moist and should be well-draining as the plant will not survive in a wet environment. Use a nitrogen-rich fertilizer or spray three times a year for best fruit yield. Magnesium may also increase the size of the fruit.
Types of Pineapple
Six well-known varieties of pineapple exist--Hilo, Kona Sugarloaf, Natal Queen, Pernambuco, Red Spanish and Smooth Cayenne. The Hilo and Natal Queen varieties weigh 2-3 pounds; the Pernambuco and Red Spanish weigh 2-4 pounds; and the Kona Sugarloaf and Smooth Cayenne weigh 5-6 pounds.
The Smooth Cayenne, which has yellow flesh and is shaped like a cylinder, is widely available in the U.S., according to the California Rare Fruit Growers, Inc. Hilo is a smaller version of this sweet, acidic fruit. The Kona Sugarloaf is the sweetest variety and does not have a wood-like center.
Bromeliads
A member of the bromeliad family, pineapples are stemless perennials with leaves that cluster together and have showy flowers. According to the 1997 Sunset National Gardening Book, bromeliads are popular house plants or they may be fastened to tree branches, using sphagnum moss. If grown in pots, the plants should be surrounded by loose, well-draining soil.
History
According to the California Rare Fruit Growers, Inc., pineapples were spread around the world by Christopher Columbus in 1493, when he found the plant in Guadaloupe and carried it back to Spain.
The plant then was used on ships as protection against scurvy. Prior to Columbus' discovery of the fruit, it was spread through South and Central America to the West Indies by Indians. The plants made their way to Philippines, Guam and Hawaii in the 16th century and were recorded as being present in England in the late 17th century.