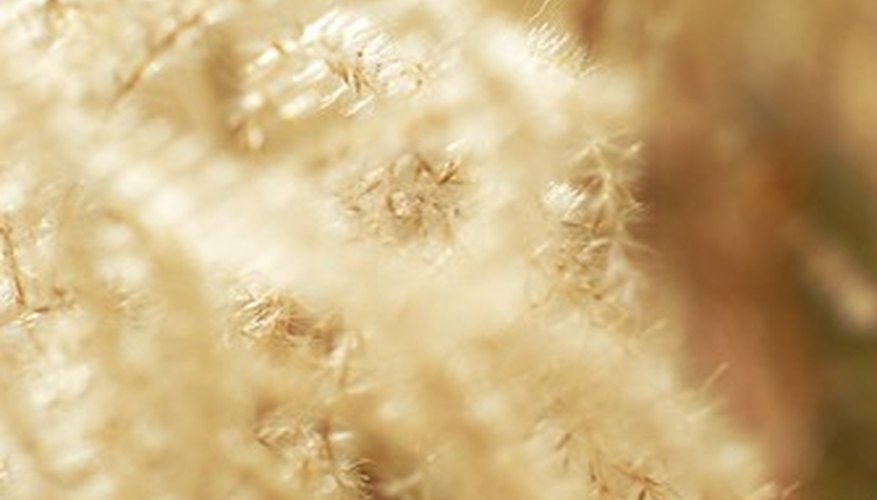 Over 50 cultivars of Miscanthus ornamental grass are available in the United States, making it the most used ornamental grass in the country. It is an undemanding, versatile plant that grows in a variety of conditions. Miscanthus has an upright to arching form with fine to bold textured foliage, depending on the variety. Commonly called Maiden Grass or Eulalia Grass, it is native to East Asia, India, Japan, Malaysia, Polynesia and the Philippines.
Description
Miscanthus grass grows 4 to 7 feet tall with dwarf varieties as short as 3 feet and giant varieties up to 15 feet tall. The foliage varies from light to dark to grayish green, which turns gold or tan in the winter. Some varieties have horizontal or vertical stripes of green and gold or cream. Large feathery plumes flower in the fall and persist through the winter. The sturdy foliage and plumes of Miscanthus add structure and interest to the winter garden.
Culture
Miscanthus grass grows best in moist to dry soil, but will grow in a variety of soil conditions, including compacted, infertile and acidic. It grows in full to partial sun, and is heat and drought tolerant. Prune the foliage in the spring before new growth begins. Wear gloves to protect your hands, gather the grass into a bundle and secure with a bungee cord, rope or duct tape. Cut the grass back to 3 to 6 inches tall with hedge shears, trimmers or a weedeater.
Propagation
Divide clumps of Miscanthus grass in the spring or summer. Do not divide them while they are blooming. Use a shovel or spading fork to pull apart the root mass of smaller plants. Dig up larger clumps of grass and cut into smaller pieces with an axe or pruning saw. Prune off dead or damaged roots and discard the unproductive middle section. Immediately replant the divisions and water thoroughly.
Uses
Miscanthus grass can be grown as a specimen plant, an accent plant at the corners of walkways, in mixed perennial or shrub borders, or in mass plantings. Dwarf varieties can be grown in large containers. Large varieties can be used for screening, but are not effective after pruning in spring until the new growth reaches its mature height.
Warning
The species of Miscanthus (M.) saccariflorus spreads by rhizomes and M. sinensis reseeds easily. Both are considered invasive in some parts of the United States. Cultivated varieties, or cultivars, of M. sinensis do not reseed and are not invasive.