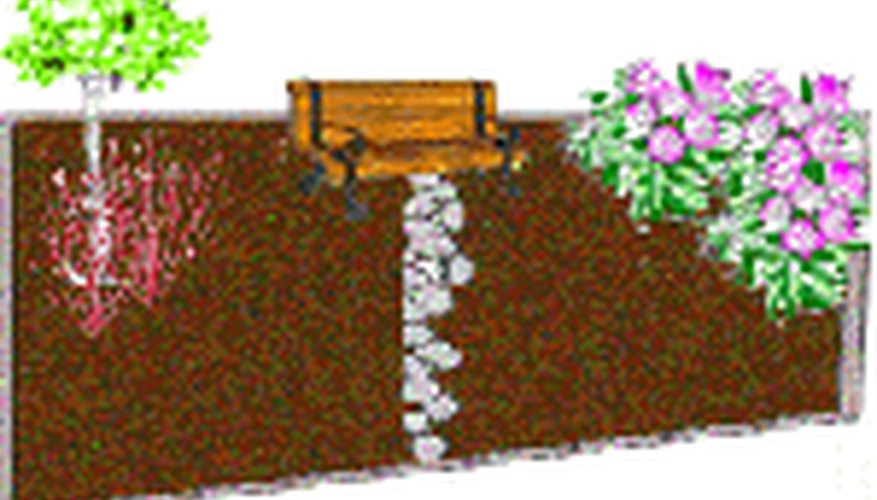 Plants for all Seasons - Planning the Front Yard Garden, part II
by Carol Wallace
Copyright Carol Wallace. All Rights Reserved.
I guess it's possible to find a silver lining in almost anything. Mine for this week is a result of the garden being encased in ice for much of the last two weeks. These are the conditions that try plants' souls - and the ones that can reach the thaw still looking good are real winners in my book.
Still planning my neighbor's front yard garden, I am hunting for plants that will carry her through the winter as pleasantly as they do in summer. So I put on mud boots and trek through my own yard to view the carnage. Instead, I find the silver lining - plants that really passed the test! The winter heath is blooming heavily and the summer heather is standing erect with foliage in gorgeous hues of bronze, coral and red. The hellebores are still green, and there are buds forming under the slightly tattered foliage. Sweet woodruff still looks sprightly, and the silver foliage of the low growing Veronica incana 'Sarabande' looks as fresh as springtime. Primula foliage is still as crisp as lettuce, the creeping phlox looks as good as new, and so does the evergreen candytuft. And the heucheras are a bit battered, but still valiant.
Other plants are no longer green, but they do present an interesting look - not exactly beautiful, but still hopeful. The framework of the fountain-like Japanese maple is spectacular. The fragile skeleton of Coreopsis 'Moonbeam' is an interesting silhouette in bronze and the remains of the 'Autumn Joy' and Rosy Glow' sedum are still attractive. A miscanthus still looks like a perfect buff-colored shadow of its summer self. The 'Elijah Blue' fescues could stand a haircut, but are still blue beneath their little scorched tips.
So just from my own yard I can see dozens of possibilities for the front yard garden across the street that will keep it from looking like a vast wasteland in winter.
If you recall from last week this garden now has its "bones" planned - a white birch in the front corner, fronted by red twigged dogwoods, plus a cluster of rhododendrons and evergreen azaleas in the opposite corner with a bench tucked between them against the stone wall. There is a fieldstone path leading to the bench and bisecting the garden. The front quarter of the garden is in filtered shade, but as we near the front walk we have some sunny areas.
We are dealing with good, if acid, soil here, and zone 6 climate conditions - and since I have those same conditions in my own yard I know that anything that works there will work here. We are also dealing with a homeowner who has a few considerations of her own.
She loves Coreopsis 'Moonbeam' - it's what got her interested in having a garden in the first place. So I was delighted to find it not entirely unsightly. She also loved variegated and purple foliaged plants. And she loves to sit on her front porch in the evening to watch the world go by, so a few plants for evening enjoyment are needed here.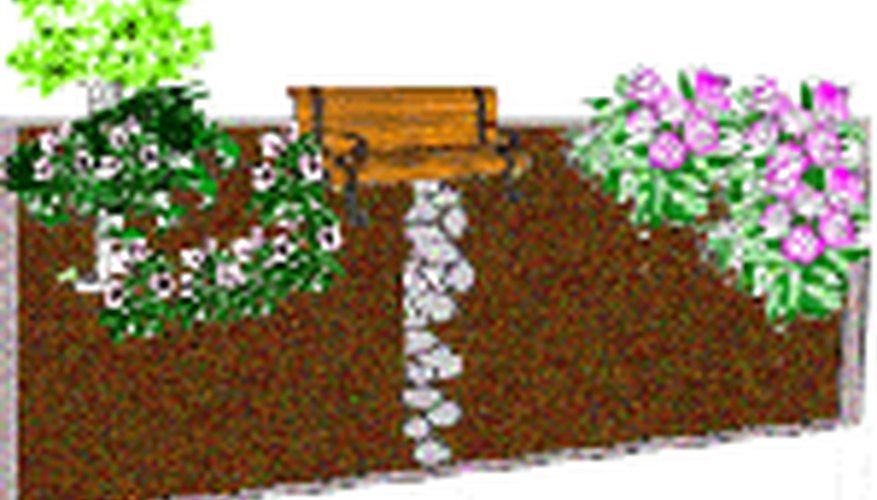 Starting with the shady side, the first plants I chose were hellebores. The glossy green foliage stays green all winter, and they are the first things that bloom in spring. I plant these in a semicircular drift around the birch and dogwoods, and bring them as close to the bench as possible because their downward facing flowers invite close inspection. Behind the birch I add Christmas fern, which is evergreen and adds a nice texture in front of the stone wall. Since the hellebore foliage is rather architectural, I want something evergreen with fine foliage for contrast.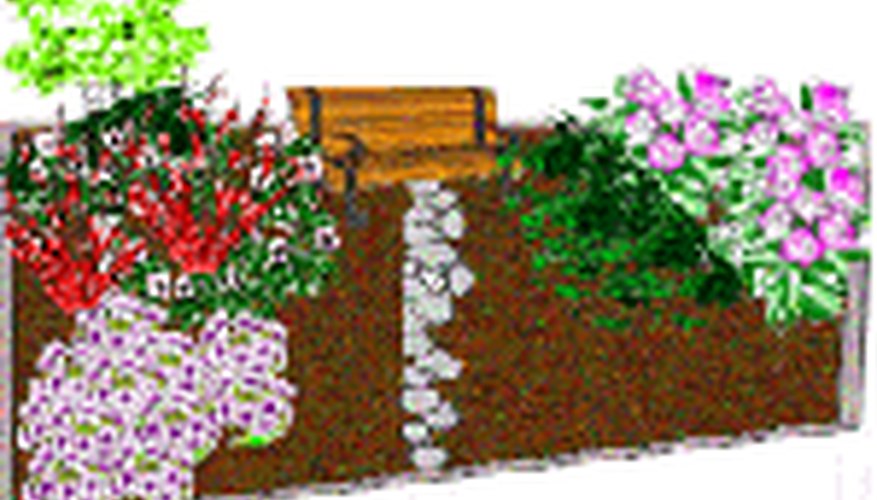 Creeping phlox answers the description, and the pink candy striped variety will blend well with the pink tones of most Helleborus orientalis. It also creeps quite well, so it will eventually carpet an area with spring bloom, as you can see in this picture. At the same time I add more ferns in front of the rhododendrons next to the house, since this corner is still somewhat shady.
To contrast with the ferns on the opposite side, near the house, I add a hosta with gold edges and green center to that corner. The area gets sunnier here, and gold foliage is more sun tolerant than most. The hosta will go dormant in winter, but the ferns and rhododendrons will provide enough interest to make up for that. In front of this I add a drift of purple coneflowers. These, too will go more or less dormant, but they leave interesting seedheads all winter which the birds appreciate. And birds are an element of considerable interest in a wintergarden!
A drift of several Coreopsis 'Moonbeam' fronts these - another plant with only an interesting skeleton come winter. These could be interplanted with a bronze-foliaged winter blooming heath to provide pockets of color and shape during the winter season.
Back on the shady side I see that other than the variegated foliage of the red twig dogwood, most of the leaves I have chosen are a fairly dark green, so I add a small drift of primroses with their yellow-green foliage to brighten things up. I plan a carpet of sweet woodruff to fill in the bare spots, .both because it spreads well and tolerates foot traffic and because it looks so wonderful covered in starry white blooms in late spring.
Finally, I add a ruffle - or rather two drifts of 'Amethyst Ruffle' heuchera on both sides of the garden at the sidewalk's edge. In my own garden I noticed that the variegated heuchera were putting on the best color show right now - so these answer both my neighbor's desire for purple foliage and my own requirement for something that would stay attractive all winter.
The shady side of the garden will put on a good color show in spring; the side that goes from shade to sunny will have color throughout the summer. Spring will be a season of mostly pinks and whites (we could tuck white daffodils throughout the area for an added show) while summer becomes a symphony of purples and golds as the shade garden subsides into shades of restful green. So there should be something of interest here in all four seasons.
The thing to remember with this, as with all garden plans is that while I have shown it here with the plants fully developed, in reality the first few years many of these plants will be quite small, and there will be lots of bare dirt showing. This is where annuals come in handy. I will be using white Nicotiana alata on the shady side, because it not only glows in the moonlight but sends forth a wonderful evening fragrance. A few of these will also be planted amid the rhododendrons and ferns near the house. Fast spreading annuals like white sweet alyssum can carpet a lot of bare area with tiny white flowers and honey-scented flowers, while annual baby's breath can give an ethereal touch to the area.
<<Part 1<< &nbsp
About the Author
Carol is a garden writer and college professor in northeast Pennsylvania. She manages the Gardening section of Suite 101.com, where she also writes the column Virtually Gardening.