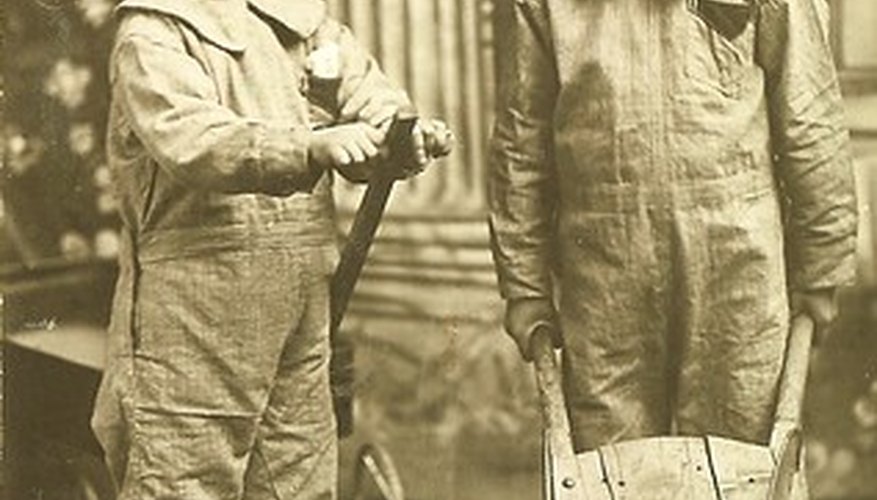 Image by Flickr.com, courtesy of Renee
The wheelbarrow is used in nearly every country in the world for construction, roadwork, masonry and landscaping. A wheelbarrow is an essential garden tool that helps take the load off your back. This tool should be on every gardeners must-have list. It can be used to transport supplies, tools, compost or debris to and from the garden.
History
Image by Flickr.com, courtesy of Richard Freeman
The first recorded mention of the wheelbarrow was as a military secret in China. The wheeled cart was used to move supplies and wounded soldiers during battle.The Chinese "wooden ox" was used in battle in the first century B.C., which cut down on the need for pack animals. The human propelled cart surfaced in European history around 1220 A.D. The Chartres Cathedral in France has a stained glass window that shows a wheelbarrow as part of a series of everyday life depictions in medieval Europe.
Sharing the Burden
The interior of the wheelbarrow is large enough to hold tools and carry supplies to the garden in one trip. A single wheel is at the front of the cart which is pushed forward when you grasp the handles on either side at the back. Move the wheelbarrow back by wrapping each hand around the pole-like handle on either side and lift it off the ground while pushing it forward.
Benefits
The wheelbarrow is an aid that gives you a rolling work bench when you are planting, weeding or maintaining your garden. When preparing the garden the wheelbarrow saves time when you are able to toss sticks and rocks that have turned up in the soil after a long winter. You can fill the wheelbarrow with seeds, compost, flats of plants, a trowel and hoe for a planting session. During the harvest your wheelbarrow will easily be filled with boxes, bags and baskets of fruits and vegetables.
Types
Wheelbarrows are made from steel and heavy duty plastic. Antique or home-made units can be constructed from wood. Different weight limits determine the durability of a wheelbarrow. If you are going to be using your purchase for weekend gardening a 300-pound capacity unit is the minimum size you should purchase. Collapsible wheelbarrows are available for small gardens for townhouse and apartment dwellers. These units have a 250-pound maximum capacity for smaller load-bearing jobs.
Considerations
A quality steel wheelbarrow with rubber wheels can be costly. You will find that the initial investment is well worth it as a well maintained steel wheelbarrow will last for years. Plastic bodies can be well constructed but generally have a 200-pound weight capacity. They may have to be replaced after a few years of use.