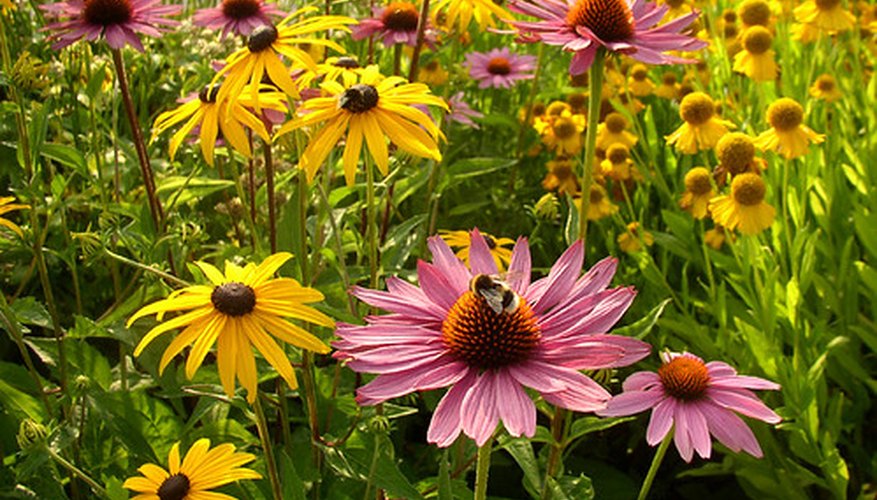 Perennials are mainstays of the summer garden. Retuning year after year with colorful blooms, interesting foliage, a variety of heights and sizes, as well as heavenly scents, there is a perfect perennial for just about any garden spot. Some thrive in shade while others prefer full sun, and some will remain compact while others will spread out year after year. Choose perennials based on the light, water and space considerations in your particular garden area.
Interesting foliage
Heuchera, species known as coral bells, is a wonderful choice for a shady area. With maple like, textured leaves, the heuchera comes in an astounding variety of foliage color including dark green, purple, chocolate brown, copper and bronze shades. Hostas are another shade loving perennial favorite. Broad, neatly veined leaves may spread out to 8 feet wide as the plant matures. Colors include shades of green and even a grey blue, as well as white and variegated versions combining the two basic colors.
Plants with flowers
Flowering perennials typically provide long lasting color. If planted in blooming succession, your garden may enjoy pretty flowers from spring until fall. Sunflower, the Helianthus family, bears wide discs full of yummy seeds ringed in fiery colored petals atop a tall stalk. Hemerocallis, the daylily, is a boarder and bed must have as it bunches and spreads out delightfully without much effort. With lily like blooms in a variety of colors, the lance shaped, arching green leaves provide a shrub-like effect. Both of these are hot sun lovers and will do well in dry conditions.
Groundcover
One of the most popular perennial ground covers is Phlox. Known also as Sweet William, this species will grow in waves of mounded pink, purple and white flowers that will spill over rock walls and boarder edges if let to wander. Lobelia cardinalis and Lobelia siphilitica, the red Cardinal Flower and Great Blue are both made up of tiny flowers borne on dainty, nodding stalks that cover and provide some moderate rise off the garden floor.
Vines
Clematis, with gorgeous star shaped blooms of rich white, pink, purple, crimson and similar shades, climbs daintily up a structure, tree, or fence. In contrast, the trumpet vine is a heavy climber with dense foliage and large trumpet shaped blooms in bright colors.The clematis maxes out at 20 feet tall, while the trumpet vine may reach heights of 30 feet.
Herbs
Lavender, a sun loving perennial, is popular for its fragrance but should also be noted for a beautiful, rounded form and dusty purple, silver and blue green foliage. Handy for dry areas in full sun, lavender will quickly cover an area with sweetly scented stalks. Nepeta, known as Cat Mint, also bears tiny purple flowers but on narrow stalks that grow every way but straight. Famous for the pleasure the scent brings to cats, Cat Mint will make a pretty addition to borders or beds provided the cats leave it alone.