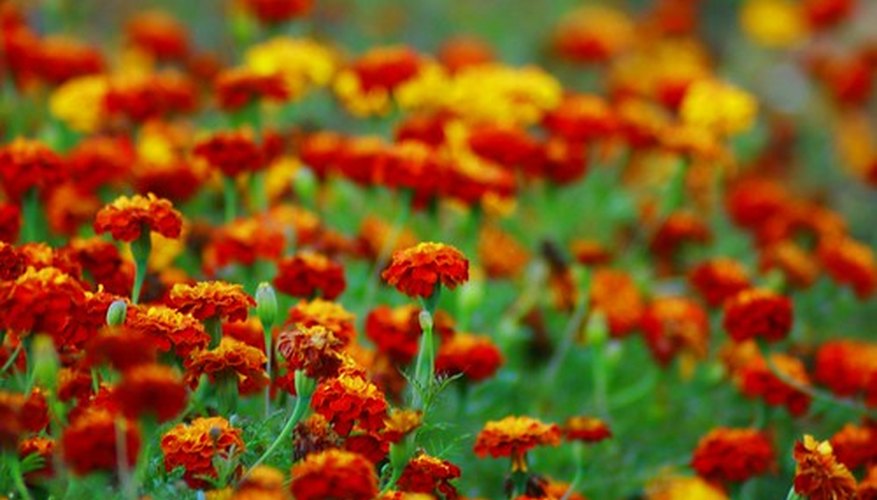 Image by Flickr.com, courtesy of Swaminathan
Most annual flowers will die when fall brings frost. Marigolds, zinnias, petunias, delphinium and many other common flowering plants are examples of plants that frost will kill. In more northerly climate zones, it's difficult to get anything to bloom in the harsh winter months. However, you can bring potted perennial flowering plants indoors—this can keep them alive throughout the winter and give you a head start on springtime blooming.
Summer Annuals That Frost Will Kill
Summer blooming annuals have a short lifespan—depending on the dates of your final spring frost and your first fall frost, you can expect most of them to live for only about six months. Examples of flowering annuals that frost will kill include all types of zinnias, plume celosia, impatiens, lantana, begonias, verbena and coleus.
Hardy and Semi-Hardy Annuals Will Survive
Some of the hardy flowering annuals that homeowners commonly plant include pansies, alyssum, cornflower, dianthus, Dusty Miller, larkspur, calendula and snapdragons. Although they have a short lifespan, they will survive farther into the winter than the frost tender annuals. Semi-hardy annuals, such as petunia, carnation, cosmos, gazania, phlox and many salvias will continue to live until the temperature drops below 28 degrees Fahrenheit for prolonged periods of time.
Nonhardy Perennials That Frost Will Kill
Geraniums and chrysanthemums are favorite bedding plants for home landscapes, but they are not tolerant of frost and will die back when cold weather hits. You can keep them alive by bringing them indoors for the winter, but be sure to provide them with adequate light and allow them to dry out between waterings.
Protecting Flowering Plants from Frost
Bringing your frost tender plants indoors for the winter is one way of protecting them from frost, but if you planted them in the ground they might not survive transplanting. Your annual flowers will die eventually, but if you have non-hardy perennials such as geraniums you want to save, you can cover them with floating row cover, build a frost frame out of boards and clear plastic, or string Christmas lights over them and turn them on at night to keep the plant warm.
Flowering Trees
Your flowering trees might lose their leaves in winter. They might even look as if they have died, but this is normal for dogwood, flowering fruit trees and other trees that add color to the spring or summer garden. If a flowering tree is a suitable plant for your climate zone, fear not—it will bloom again after the temperature rises in spring.
References