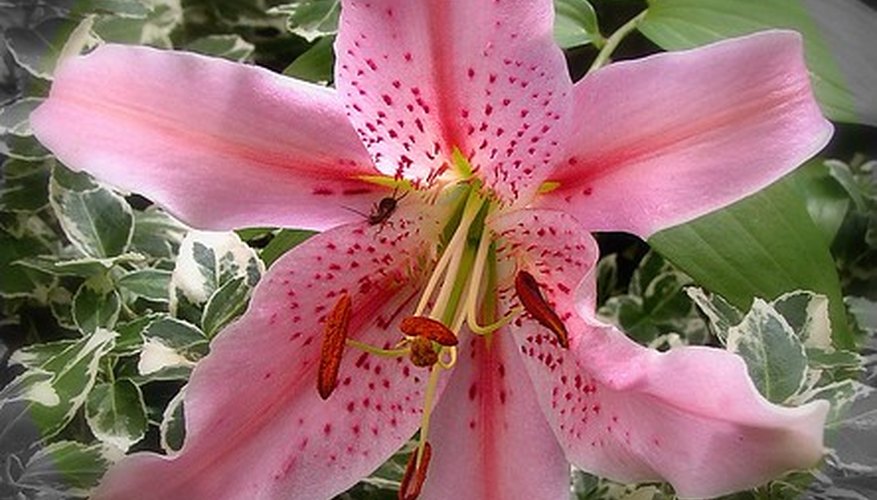 True lilies are a member of the Lilium genus and can be found in various colors and shapes. Despite the variety amongst lily cultivars, most of these flowers have symbolic value. Flower retailer Teleflora states that lily symbolism dates back to 1580 BC, when lily images were discover in ancient Crete. "Derived from the Greek word 'leiron,' the lily was so revered by the Greeks they believed it sprouted from the milk of Hera, the queen of the gods," states Teleflora. Each lily cultivar differs in color, shape and size, as well as symbolism.
Friendship
The Peruvian lily, also known as Alstroemeria, is strongly associated with friendship and devotion. According to Organic Bouquet, an organic flower retailer, Peruvian lilies, sometimes referred to as Lily-of-the-Incas, can be found in a variety of colors and are often used to celebrate a birthday or graduation.
Prosperity
A pink Stargazer lily, one of the more dramatic lily cultivars, is often associated with wealth and prosperity. These lily plants have a strong fragrance and bold colors, which make them a great choice for celebrating a promotion or new job.
Sympathy
A white Stargazer lily is often used to express sympathy. This flower, which has a subtle fragrance with white blooms, is often given as a gift of condolence because the white blooms are associated with innocence and chastity. The book "Flower Favorites" by Lizzie Deas asserts that all white lilies are emblematic of light and purity.
Humility
Lily-of-the-valley is the lily genus most commonly associated with humility. This flower has a subtly sweet smell and has come to symbolize humility, chastity, sweetness and purity. For this reason it is often used to celebrate prom as well as a first crush or new baby. BirthFlowersGuide.com, a website devoted to the meaning of birth flowers, states that Lily-of-the-valley is the birth flower of those born in May and can also be used to symbolize a return to happiness after a difficult struggle.
Beauty
Calla lilies are associated with beauty. These lilies are sleek and modern. Organic Bouquet describes them as "the most gentle and delicate" of flowers. In addition, OB states that calla lilies are "a magnificent beauty" and that the word Calla comes from the Greek word Kallos, which means beautiful. Calla lilies are often found in wedding bouquets.