by Naomi Mathews (Lanao2(at)aol.com)
Columbine Guide Sheet
I was born in a very small rural town in the beautiful state of Colorado. What I still like to call my "hometown" is located about fifty miles north of Denver, near the base of the magnificent Rocky Mountains. Although our family moved to Washington state when I was very young, to this day my heart is often drawn back to Colorado.
Over the course of my life, I had only been back to Colorado once until four summers ago. I decided it was time to "find my roots" -- and find them I did. The day that I walked into the small, humble home where I was born will be forever etched in my mind. I felt as though my life had finally made full circle. When I left that day, it was with a feeling of awe and wonder, and that I had indeed "found my roots."
As I strolled around the yard of my "homeplace" I noticed the hedge of rambling roses that my mother had often spoken of. I stood on the porch and looked up into the tallest oak trees I've ever seen. Looking into the fields beyond, I saw the sugar beet fields that my father had once worked in. Yes, I found real live roots in this humble place that had been planted with love and were still tenderly being cared. And I found peace.
You may be asking what this introduction has to do with flowers. More specifically, you may be asking what it has to do with Rocky Mountain columbine flowers.
When tragedy struck Littleton, Colorado, in April of 1999, my thoughts immediately turned toward the many hundreds of lives touched by this devastating event. In the days that followed, I was deeply moved on seeing the thousands of beautiful flowers lovingly placed at the "Columbine Memorial." Once again, I felt my heartstrings pulling me toward my birthplace. My Colorado.
Therefore, I am dedicating this article to all those whose lives were forever changed on that fateful day in Littleton, Colorado. Please take a brief walk back in time with me, as I share with you a bit of history about the exquisite, fairylike Rocky Mountain columbine.
In April of 1899, exactly one-hundred years before the Littleton tragedy, the Rocky Mountain columbine (Aquilegia caerulea) was adopted as the official Colorado state flower. Since then, the columbine has been one of the most honored of all official state flowers in the United States.
Had it not been for a brave mountain climber named Edwin James, this delicate little flower may never have been discovered. It was in 1820 that James and his climbing party were the first to climb Pikes Peak, the most famous mountain peak in Colorado. Little did Edwin James know that the delicate blue and white flower he discovered along the way would many years later be honored as Colorado's state flower.
After being adopted as the official Colorado state flower in 1899, it was declared that all Colorado citizens protect this rare, delicate species of the columbine. Laws passed in 1925 prohibited persons from digging or removing columbines from any public lands. Additionally, it was declared illegal to pick columbines from private land without owner consent, and picking these flowers was also restricted to no more than 25 in a single day.
Another lasting honor was later bestowed upon this revered woodland flower. "Where the Columbines Grow" is a beautiful song written and composed by A. J. Flynn in tribute to the Rocky Mountain columbine. On May 8, 1915, it was adopted as the official Colorado state song, and still lives on in the hearts of the citizens of Colorado today. The last verse and the chorus of this song read as follows:
Let the violet brighten the brookside,
In sunlight of earlier spring,
Let the fair clover bedeck the green meadow,
In days when the orioles sing,
Let the goldenrod herald the autumn,
But, under the midsummer sky,
In its fair Western home, may the columbine bloom
Till our great mountain rivers run dry.

Tis the land where the columbines grow,
Overlooking the plains far below,
While the cool summer breeze in the evergreen trees
Softly sings where the columbines grow.
Perhaps this bit of history about the exquisite blue and white Colorado Rocky Mountain columbine will help to restore a measure of healing to the students and faculty members who were at Columbine High School on that fateful April day. And, perhaps knowing that their school's symbolic flower has remained lovely, fragrant, and protected for decades will bring a sense of peace to them as well.
And now, a bit about the beautiful columbine for those gardeners who may wish to plant a few in their special garden of memories.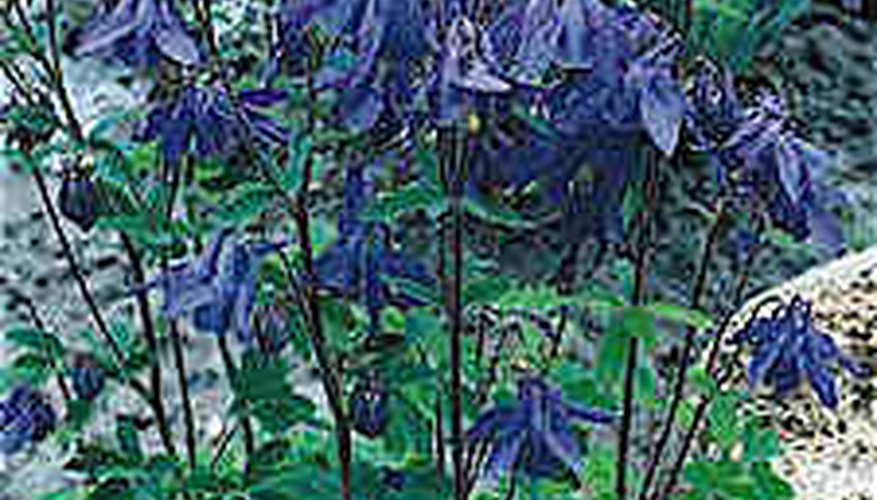 Columbines are a very hardy perennial and will thrive in all zones in the United States, as well as in temperate areas in other parts of the world. They prefer filtered shade and moist soil, but tolerate full sun if they have sufficient water. Their dainty, nodding flowers vary in size from one to three inches across, with blossoms ranging in color from exquisite pastels to deeper colors such as purple, yellow, orange, and red. The contrasting sepals and petals of the columbine lend a pixie-like look to them as they sit gracefully atop erect, wiry branches, their lacy green foliage adding further to their beauty.
All columbine flowers have backward-projecting spurs that contain rich nectar. This makes them very attractive to hummingbirds. Some have large flowers with longer spurs, while others have shorter spurs with double flowers, depending on the species.
The Rocky Mountain columbine (A. caerulea) grows from one to three feet in height. Its delicate, erect pastel blue and white flowers are about two inches across and very fragrant. The spurs of this species are approximately two inches long, and are either straight or spreading. Imagine for a moment Edwin James tenderly lifting this lovely plant from its hiding place in the soil of Pikes Peak over a hundred years ago.
The Western Columbine (A. formosa) is native to California, Utah, and Alaska and grows from one to three feet in height. This variety blooms with nodding flowers of red and yellow, and has stout, straight spurs that are deep red in color. The seeds of this columbine are sought after by small birds, such as song sparrows, juncos, and many others. If you enjoy having songbirds visit and entertain you, this is an excellent variety of the columbine to add to your flower garden.
Another striking variety is the European Columbine (A. vulgaris) which reaches one to two and a half feet in height, and sports nodding flowers of blue, purple, or white. The spurs of this columbine are short and rather knobby, usually about 3/4 inches in length.
A. longissima, another lovely species, has showy pale yellow flowers that bloom profusely. This species is native to southwest Texas and northern Mexico. Its spurs are from four to six inches long and are narrow and drooping.
The Golden-Spurred Columbine is one of the showiest of all the species. It is also one of the largest columbines, growing three to four feet high and having many large branches. Its leaves have soft hairs on their underside while its erect flowers are a lovely yellow, usually one to three inches across.
These are just a few of the many species of columbines you can choose from to brighten your landscape. Many other hybrid strains are available such as Spring Song, Biedermeier, Dragonfly, Music, and Fairyland. All species are easy to grow and require only minimal care. Columbines bloom profusely in the spring and early summer, but if you want another burst of blossoms later in the year, the old stems can be cut back to accomplish this.
I don't know about you, but I have a feeling I will have one or more pastel blue and white Rocky Mountain columbines growing in my garden before summer's end. Not only will they be a beautiful reminder of my Colorado home, but they will always cause me to reflect on how precious life really is.