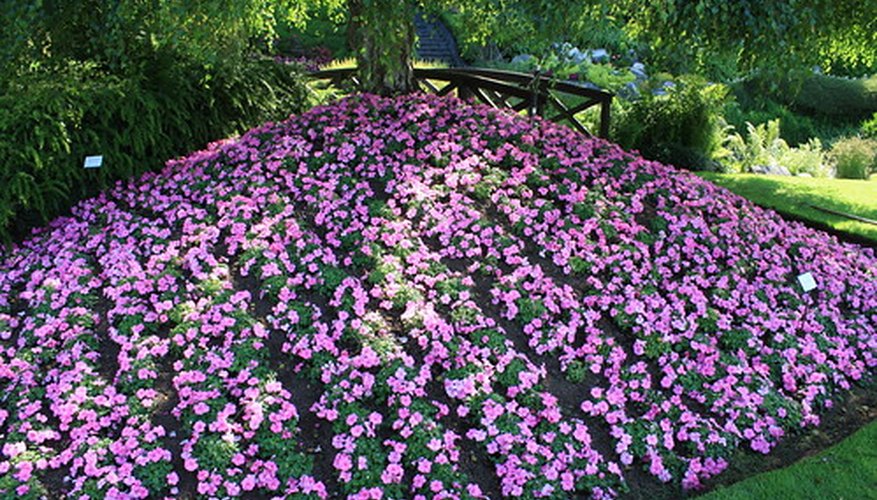 Over 500 species of impatiens exist throughout the world. They grow 3 feet high and the flowers are 1 to 2 inches across. The blossoms come in a variety of colors including carmine, pink, reddish-orange, purple and white. Some species are variegated in a combination of white with some other color. The fruit forms capsules that explode once they are touched after maturity. This allows impatiens to "throw" their seeds throughout their habitat.
Considerations
Impatiens thrive in rich, moist soil and they need lots of water. Keep your impatiens out of full sunlight, since it will cause the blossoms to fade. This is one of the flowers that thrive in shade or partial shade. Impatiens cannot tolerate cold temperatures, so they need to be protected in the winter.
Time Frame
The United States Department of Agriculture sponsored a plant collecting expedition to New Guinea in 1969. These explorers discovered a new species of impatiens with larger flower blossoms with more intense colors. This new species gave the gardening community new leaf patterns as well. The New Guinea impatiens showed a greater tolerance to bright sunlight than the common impatiens.
Geography
Impatiens are native with near world-wide distribution near the equator. Impatiens thrive in the tropical and subtropical areas and even the temperate zones of North America. These flowers are found in their natural habitat in East Africa, Zanzibar, Tanzania, Mozambique and Asia.
Features
The tropical areas where impatiens inhabit are warm year round with an average temperature of 68 to 86 degrees F. There is a small change in the seasons between summer and winter. These areas receive about 80 inches of rainfall per year. The humidity is high and feels oppressive to the inhabitants.
Significance
The subtropical areas are influenced by tropical ocean air. The summer temperatures average 69 to 79 degrees F. The winters are mild without freezing temperatures. The humidity is oppressively high and the rainfall is in moderate amounts.