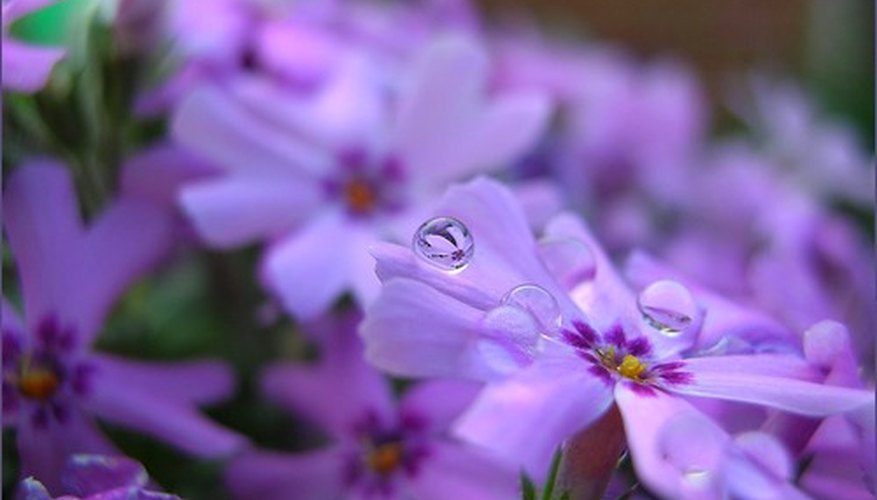 Phlox is a perennial flower native to North America. Numerous hybrids developed in the United States and Europe have given gardeners dozens of tall garden phlox varieties to choose from, with a broad spectrum of colors and blooming times. A popular Victorian-era flower, tall garden phlox now graces gardens throughout many temperate growing zones.
History
Phlox is the name of a genus of mostly perennial flowers containing more than 65 different species. The name "phlox" comes from the Greek word for "flame," in deference to the brilliant, glowing effect of its flowers, according to the University of Illinois Cooperative Extension Service. Phlox was a popular flower in Victorian-era gardens, used in bouquets to indicate that the souls of the giver and recipients were united. The University of Arkansas extension service states that native American phlox was introduced to England by the American plantsman John Bartram in the 1740s; European breeders then developed exotic hybrids, which John Breck re-introduced to the U.S. in the 1830s.
Geography
Native phlox is a woodland plant indigenous to much of the United States. The University of Arkansas extension service notes that varieties of phlox grow from the northernmost tiers of New York and Michigan southward to Arkansas and Tennessee. Hybrids offered in many garden catalogs present an even greater range for phlox growing, with some cultivars hardy from USDA zones 3 to 9 (nearly all of the United States).
Features
Tall garden phlox plants are perennial. A tall, upright sturdy stem bears oval or lanceolate leaves along its length. Each stem is topped with a cluster of flowers, each flower being about 1 inch across and bearing five to seven petals. Most of the flowers have a darker "eye" in the center.
Time Frame
Wild varieties of phlox are primarily woodland plants that bloom in May and June. Hybrid garden phlox cultivars bloom at various times, with different varieties available that can bloom from May through September in the northern hemisphere. Tall garden phlox hybrids usually bloom between July and September. Phlox seeds should be started indoors eight to 10 weeks before the average last frost date, and transplants or nursery stock should be set outdoors only after danger of frost has passed.
Types
There are about 50 types of phlox that are commercially marketed, according to the University of Arkansas extension service. In addition to the tall garden phlox or summer phlox (Phlox paniculata), there are two types referred to as "creeping phlox." Phlox stolonifera grows about 1 foot tall, prefers shadier conditions, and spreads by way of a mat of ground-level stems. Phlox subulata, or moss pink, is a much shorter ground cover that requires full sun. Tall phlox include wild varieties, which usually grow to about 2 feet tall and bear lavender blooms, and numerous garden cultivars growing 2 to 3 feet tall and blossoming in shades of salmon, pink, white, purple and brilliant reds.