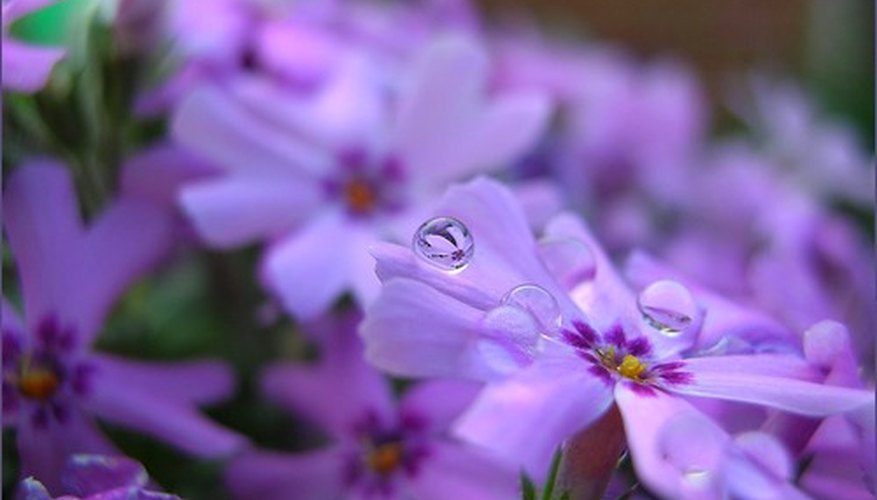 Whether it's the low-growing moss or creeping phlox (Phlox subulata) or the tall, upright garden phlox (Phlox paniculata), this family of fragrant and colorful perennial flowers can find a place in just about any garden setting, from a shady corner to a cottage garden bed or cascading over a rock wall. The word "phlox" comes from the Greek, meaning "a flame," and this flower burns bright with stunning colors. Most phlox varieties are hardy in zones 3 to 9 and are easy to grow.
Characteristics
All phlox flowers are five-petaled. Garden or tall phlox varieties have large clusters of flowers atop sturdy stems that can grow up to 5 feet tall and 2 feet wide. Colors range from white, pink, lavender, red, salmon and purple. The flowers are very fragrant and attract bees, butterflies and even the occasional hummingbird. Garden phlox blooms from summer to fall.
Creeping or moss phlox also has fragrant flowers, but is an evergreen trailing perennial that only grows up to 6 inches high. This spreading variety can reach up to 2 feet in width. Creeping phlox is a spring bloomer.
Where to Plant
Tall phlox prefers full sun while creeping phlox varieties like partial shade. Any well-drained soil is acceptable. If planting phlox in groups, space tall garden phlox at least 2 feet apart and creeping phlox at least 1 foot apart. These low growers can be planted in rock gardens, at the front of a border, along a walkway or trailing over a wall. Tall phlox should be planted toward the back of the border or grouped together in a cottage garden setting.
How to Plant
Plant nursery stock in the spring after the last frost. Dig a hole to accommodate your phlox, making sure the soil is loosened around the sides to give the roots room to grow. Place the phlox in the hole, backfill with soil, and compact the earth. Water generously.
Care
Water regularly, and give extra water during excessive heat or periods of drought. Phlox can be given an all-purpose fertilizer once a month. Deadhead tall varieties when flowers are spent to make room for new blooms to open. In the fall, shear tall phlox to about 6 inches from the ground. Creeping varieties can also benefit from an annual cutting back. Mulch creeping phlox to protect their shallow roots over the winter months.
Diseases and Pests
Spider mites and powdery mildew can be problematic for phlox but, with a bit of care, can easily be remedied. Spider mites are the result of very hot, dry periods when the plant doesn't receive adequate watering. Creeping varieties are more susceptible to spider mites. Hose off the plant and provide regular watering.
Tall phlox is prone to powdery mildew, which is a result of too much shade, too much water, and not enough air circulation. Thin out the phlox by removing some of the inner branches in the clump. If the plants are too close together, they may need to be transplanted. Don't allow the roots to become waterlogged by over-watering.