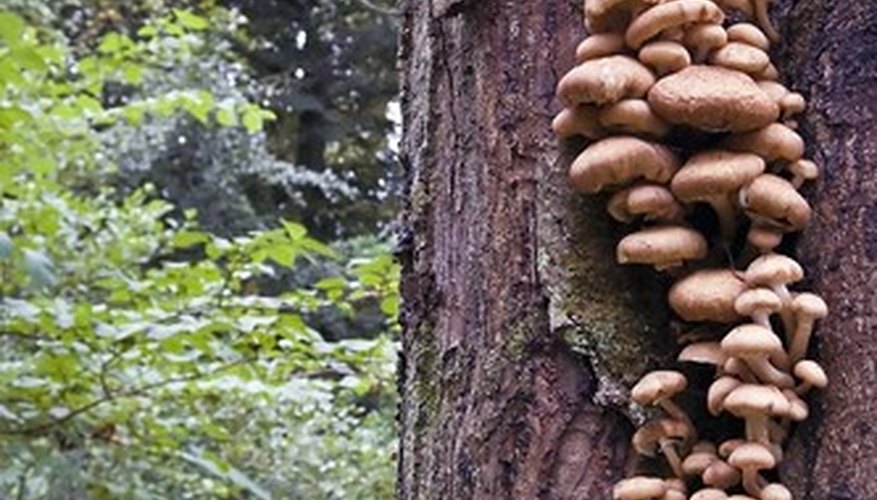 According to Dr. John F. Baniecki, West Virginia University Extension Service plant pathology and entomology specialist, plant diseases are qualified as a "disturbance that prevents a plant's normal development and reduces its economic or aesthetic value." Most plant diseases are caused by fungi. Fungi act as parasites, infecting plants weakened by pests or environmental conditions. The basic structure of the fungus infecting a plant may not be visible to the naked eye but the structures they produce to spread and survive are visible. Some fungal plant diseases are common root rot, anthracnose, powdery mildew, rust and verticillium wilt.
Common Root Rot
Common root is caused by a fungus Cochliobolus sativus. It is a soil borne pathogen with few outward signs or symptoms. In most cases it is recognized only after a plant has died. Close inspection of plants infected will show brown lesions on the root, crown and lower part of the stem. Young infected plants will appear stunted and lighter in color than healthy plants. Established plants that become infected will mature early but not produce.
Anthracnose
Anthracnose is caused by fungi Colletotrichum or Gloeosporium. This fungal plant disease is waterborne. The spores lay dormant during winter in old leaves, branches or cankers. When the weather becomes warm the spores produce tiny "fruiting bodies" on leaves. It can be identified by dark spots on the underside of the leaves, sunken spots in stems, fruits or flowers. As the spots become larger, the leaves will die. Eventually, left untreated the entire plant will die.
Powdery Mildew
Powdery mildew is a fungal plant disease that affects the surface of a plant. It typically begins by causing leaf curling and twisting. Later stages of development powdery mildew looks like a white or gray powder on the surface of the entire plant. End stages of infection leaves become yellow then brown and eventually die. New growth becomes stunted and buds do not to develop. It does not cause death in plants but does make them unattractive.
Rust
There are a number of fungi that cause a plant disease called rust. Some only affect specific plants. The signs and symptoms are the same. Typically infection occurs during wet weather. Pustules form on the underside of leaves (pustules contain spores that are spread when the pustule bursts). Leaves that are infected will become mottled or spotted, twisted and distorted. Eventually the plant will lose its leaves. Eventually, if left untreated, the plants will die.
Verticillium Wilt
Verticillium wilt is a fungal plant disease caused by a soil borne fungus. It is sometimes confused with weather damage or other forms of wilt that are caused by bacterial infection. The disease begins in the roots and progresses upwards through the vascular tissue of most plants. The pith (center) of the stem will become hollow and turn brown. Leaves will wilt, change color and die. Eventually branches will begin to die.