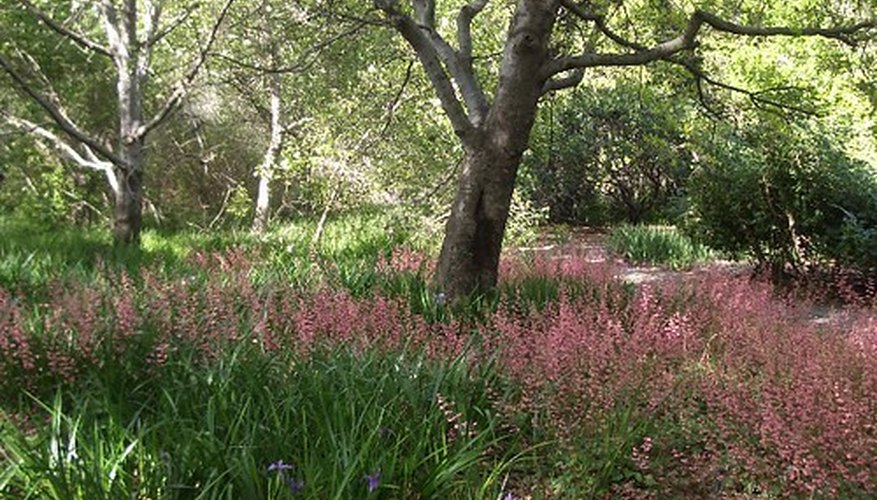 Coral bells (Heuchera sp.), also known as alumroot, are low-growing perennials that produce thin, long stems with bell-like flowers along them. According to the University of Illinois Extension, the Heuchera genus was named for Johann Heinrich von Heucher, an 18th-century German physician. While he probably was not an armchair botanist, it was common for plants at that time to be named for people prominent in society. Coral bells are easy-to-grow plants, and there are hundreds of cultivars to choose from.
Attributes
Coral bells grow from 12 to 18 inches tall, with a similar spread. They are hardy in USDA Zones 3 through 8. They produce blooms in white, purple, reddish-brown, salmon and all shades of pink and red. They have attractive, clumping foliage that comes in yellow, purple, dark green, light green, poison green, almost-black and orange. The foliage stays evergreen into winter. Coral bells bloom from May through July.
Sun, Water and Food
Most coral bells prefer light shade, but some of the newer hybrids (like the villosa) will take full sun and are more heat tolerant. They also will grown in deeper shade, but they will bloom less. Their flowers are favorites of hummingbirds. Coral bells like a well-drained, loamy or sandy soil with a neutral pH (7.0). Water once a week until established, then water only when the top inch of soil is dry. A slow-release fertilizer, like Osmocote, can be used at the beginning of spring and midway through summer. Or fertilize every two to three weeks with a balanced liquid fertilizer like Miracle-Gro.
Upkeep
To encourage more blooms and to improve appearance, deadhead your coral bells. You can divide coral bells in the fall by splitting the crown into two or three pieces. If the base is getting too woody, dig up your coral bell and replant deeper.
Problems
Coral bells are fairly disease- and pest-resistant. However, they are sometimes susceptible to bacterial leaf spot, anthracnose, gray mold, pseudomonas, xnathomonas, botrythis, mites and sunburn.
Cultivars
There are hundreds of coral bell cultivars, and more coming each year. According to the University of Illinois Extension, some of the most popular include "Amber Waves," which has gold-yellow foliage; "Obsidian," which has black foliage and white flowers; "Cherries Jubilee," which has brown foliage and red flowers; "Melting Fire," which has fiery red leaves and white flowers; "Lime Rickey," with lime-green foliage and white flowers; and "Peach Flambe," which has peach-colored foliage.