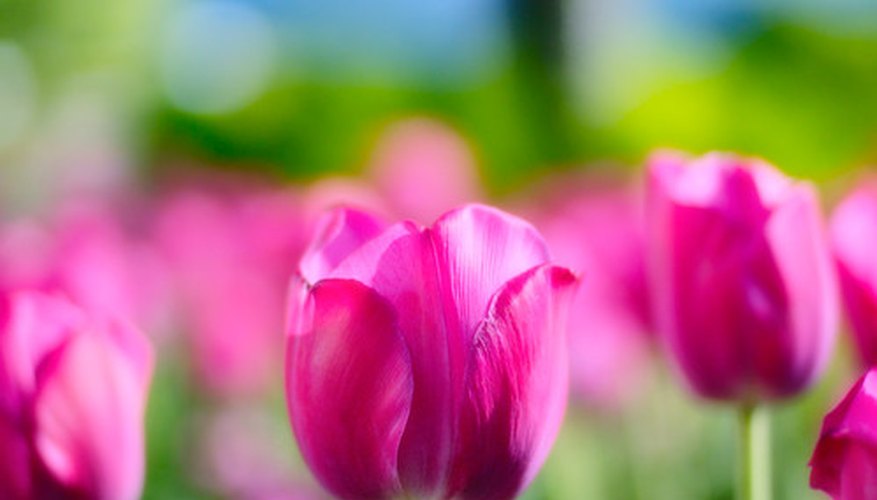 Grow a variety of different flowering bulbs in your garden for easy, carefree flowers from spring through fall. Plant a wide variety of bulbs that bloom in different seasons to complement your perennial or annual flowers. Some varieties of bulbs need a cooling period, while others are frost-tender and must be dug up and stored in a frost-free location until spring. Schedule your bulb planting according to the bulbs' variety and cultural requirements.
Early Autumn
Plant spring-blooming bulbs in early to mid autumn. This includes tulips, daffodils, crocus and hyacinth. Spring-blooming bulbs need a period of cold weather in order for them to grow roots before beginning vegetative growth when the weather warms in spring.
Late Autumn
Beginning in late autumn, plant spring-blooming bulbs in pots for indoor forcing during winter. Plant bulbs close together but not touching in 6- to 8-inch pots. Spring bulbs that are forced to bloom indoors out of their regular season need to be exposed to near-freezing temperatures for 12 to 16 weeks before being brought into regular room temperatures to grow leaves, stems and flowers. All types of lily bulbs can be planted in late fall, as well.
Winter
Plant tender amaryllis bulbs for indoor blooms any time from early winter through early spring. Amaryllis are tender tropical bulbs native to South America. They produce massive, dinner-plate-size flowers atop a single 18- to 24-inch stem. They do not require a chilling period like spring-blooming bulbs. Amaryllis will bloom approximately 10 to 12 weeks after potting up and their initial watering.
Spring
Spring is the time to plant summer-blooming bulbs, such as gladiolus, cannas, dahlias, caladium and tuberous begonias. These are tender bulbs that will not survive winter in any area where frost is present. Gladiolus bulbs are dug up in late summer, stored over winter in a frost-free area and replanted every spring after all danger of frost has past. Although it is recommended that lily bulbs be planted in fall, they can also be planted in mid-spring for blooms approximately 60 to 70 days later.
Summer
Fall-blooming bulbs should be planted in early summer, but no later than mid-summer. This includes colchicum, fall crocus, scilla and resurrection lily (also called "naked ladies"). These hardy bulbs will begin to grow foliage in spring and will flower in mid to late autumn, even after their foliage has dried up for the year and turned brown.