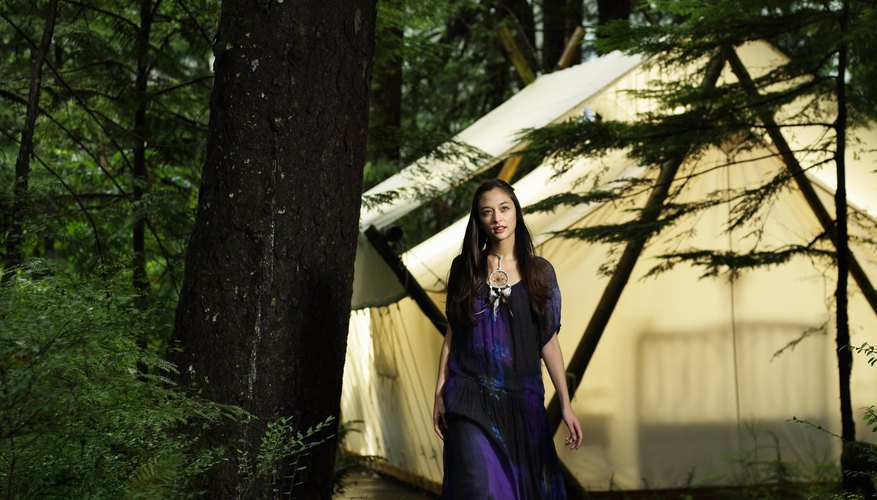 "Good fences make good neighbors" is especially true when living in garden apartments or in "butter-passer" neighborhoods -- the ones where the houses stand close enough together to pass butter from window to window. Whether you want to screen a pool or sauna, muffle street sounds, create shade or divide your yard into outdoor rooms, cheap options exist to help you achieve your goal while enhancing your home's curb appeal.
Living Fences
Living fences take the longest to create, but provide visual appeal, sensory stimulation and environmental advantages. The right plants provide food and cover for birds and beneficial insects, as well as food or blooms for your own table. One of the newest options, a living wall of bitter melon vines, supplies privacy, shade and a wrinkly, pointy-ended vegetable that helps the body break down and use sugars in the liver, muscles and fat layers of the body. Soak your seeds for 48 hours before you plant them, advises the National Bitter Melon Council. Locate a future bitter melon wall in full sun and provide a trellis or arbor for the plants to climb. Grape and tomato vines and blackberry or raspberry bushes also make excellent edible walls.
Brush Arbors
Tree and brush trimmings create an interesting room or wall. You will need 10- to 12-foot long dead-fall logs for upright posts, or a pair of existing trees or shrubs. If your area freezes and thaws often, sink the posts into the ground a minimum of 2 feet after digging your post holes. Sharp-sided river rock makes the best back-fill because the faces of the pieces bind together rather than constantly shifting the way round river gravel does. Once the concrete used to set the posts dries, you can weave wrist-thick to finger-thick branches between them to create your wall.
Shade Cloth or Tarps
Run nylon-coated wire clothesline from the side of your house to your garage, shed or a post in the yard to create an expandable/retractable wall with tarps or shade cloth. Hang the tarps or shade cloth like shower curtains, using decorative rings through the grommets along the edges. Push the wall together when you need less privacy, or pull it to its full width when you need more. Shade cloth comes in a variety of attractive colors and patterns, although tarps provide fewer color options. Tarps prices at discount stores start at around $5 for a 9- to 6-foot rectangle. Shade cloth prices range from a little over $63 for an 8-by 12-foot section providing 75 percent shade to a little over $80 for 78 percent protection, as of the date of publication.
Fence Panels
Ready-made fence panels set between two posts provide privacy within two to five days, depending how long it takes for the concrete to set around the posts. Fence panel prices vary according to the materials used. Pine costs less than redwood, and standard pickets cost less than basket-weave or shadow box panels. Using a 4-by-4-inch post, 12 feet long, cut into two pieces and two pieces of 2-by-4-inch stock lumber, 8 feet long, you can frame your own fence panel. Split seven pieces of 1-by-6-inch stock lumber, 12 feet long, into four pieces each, 1 1/2 inches wide, then cut them to 6-foot lengths to make 42 pickets for a total estimated cost of about $60 as of the date of publication, according to Tim Carter, owner of the website Ask the Builder.