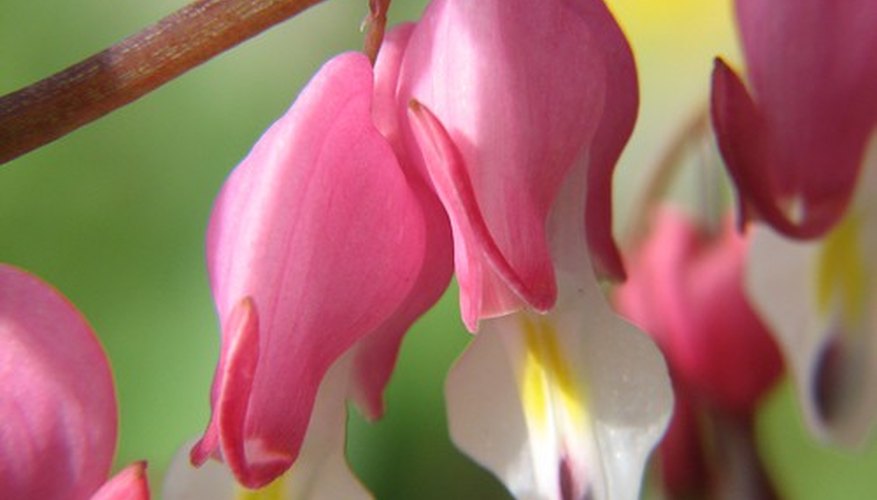 Bleeding hearts are shade-loving, flowering hardy perennials beloved by gardeners across North America, Europe and Asia. Bleeding hearts are low-maintenance and easily propagated by division, or by digging the babies, which sprout up in the shade of the mother plant each spring. The long, gracefully arching stems with lines of hanging blooms also make elegant cut flowers for the table or spring bridal bouquet.
Types
Dicentra spectabilis, the common or Japanese bleeding heart, is the most common bleeding heart type. It is available in its natural pink or in an "Alba" or white-flowering variation. It grows 3 feet tall in a mass 4 to 5 feet in diameter. Dicentra exima, the wild or fringed bleeding heart, grows 18 inches to 2 feet high, and has lace-like cut leaves. Exima is also available in pink and white varieties. Cultivars of each of these include a small range of white to salmon pink to deep rose-colored blossoms and green to grayish leaf colors.
Geography
Dicentra originates in Japan and Southeast Asia, and prefers a moist, temperate climate. Different varieties of bleeding hearts have slightly different hardiness zone ratings, but most will grow in zones 4 through 8, with some extending into zones 3 and 9. Local cultivars field-raised in a nursery near you will best ensure that the bleeding heart plant you purchase will grow in your location.
Function
Bleeding hearts create an airy burst of spring color even in the darkest shade garden. It also makes a lovely, long-lasting cut flower in vases, and a surprising addition to bouquets. In the perennial bed, bleeding heart helps span the gap between early spring bulbs and the time when irises and day lilies open their blooms, and provides a lovely counterpoint to lilacs which blossom at about the same time.
Lore
In bridal bouquets or funeral arrangements, bleeding hearts are a symbol of undying love. A princess fairy tale is often told using a bleeding heart flower, slowly taken apart, to illustrate the story of how the bleeding heart originated. According to the story, a prince bought a pair of rabbits for the princess (the outer petals). The inner petals show the beautiful earrings and slippers the princess wore. The princess rejects the prince's love, and the inner stamen shows the dagger with which he took his own life. When the princess realizes the love she has lost, she too dies, and bleeding heart plants spring from her grave.
Time Frame
Plant bleeding hearts in the spring; they are commonly available in nurseries during the plants' blooming season around May or early June. The plants die back by August, storing food in their woody root stems for winter dormancy and early spring growth.
You can force bleeding hearts for Valentine's Day or Mother's Day blooms by digging pieces of the roots after they have died back in the late summer and placing them in plastic bags in the freezer for 16 weeks or more before soaking and planting the roots 6 weeks before the desired bloom date.