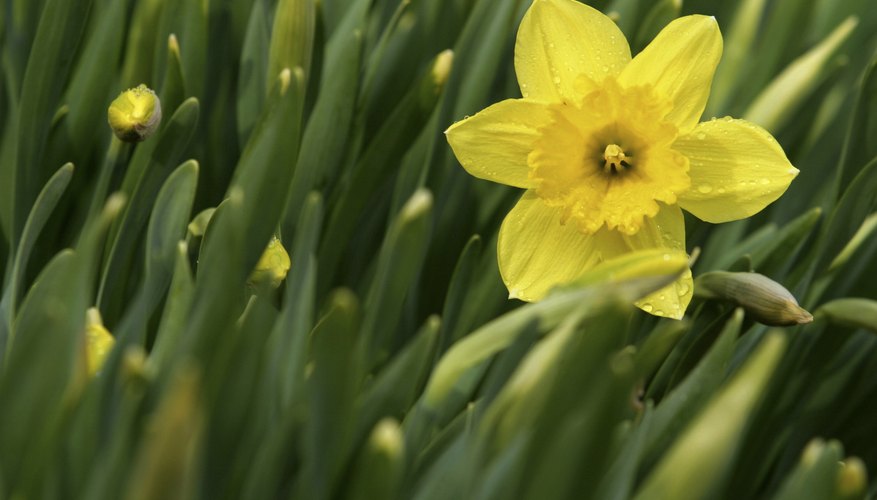 Although people use the words jonquil, narcissus and daffodils interchangeably, the specific variety of jonquils (officially Narcissus jonquilla) belongs to the species Narcissus, while daffodils are the common name for the entire family of flowers. In general, jonquils grow to a smaller height than other daffs and have smaller and more numerous flowers. Jonquils also boast a stronger, lovelier fragrance than other members of the Narcissus family.
Characteristics
Most jonquils and jonquil hybrids available today sport two to six small blooms per stem. Their flowers are nearly always yellow, flat-petaled and heavily scented. The stems tend to be more rounded and the leaves narrower than those of other daffodils. Jonquils bloom earlier than many members of the Narcissus family.
Cultivation
Like most bulbs, jonquils need fall planting. They like a sunny position in fertile soil a bit on the sandy side. Plant jonquils closer together than other daffodils---about 4 inches apart---and 4 inches deep. Place a small amount of low-nitrogen, high-phosphorous fertilizer in the planting hole. After the blooms have come and gone, resist the urge to remove the dying leaves until after they turn completely brown. Daffodils depend on this practice to help fertilize the ground and prepare it for spreading their colonies. To divide crowded jonquil colonies, dig them up after the foliage dies back, separate the bulbs by hand or with a garden fork and replant. Alternatively, bring all or some of the bulbs indoors to store in the refrigerator until the following fall.
Perfume and Aromatherapy
Of the Narcissus family, only fragrant jonquils enjoy use in the perfume industry. According to the online fragrance encyclopedia OsMoz.com, among the perfumes that employ top or middle jonquil notes are Amazone by Hermès, Dzing! by L'Artisan Parfumeur and B. United Jeans Woman by Benetton. Herbalist Jeanne Rose reports that jonquil essential oil treats hysteria quite effectively. Jonquils used in perfumery are grown mostly in France.
Companion Planting
While most people consider jonquils and their daffodil cousins to hold purely ornamental value, they can be the farmer's best friend, according to companion planting expert Toby Hemenway. Narcissus bulbs help fruit trees in particular by choking out grass and weeds that compete with the trees for nutrients. Bulbs also stop growing for the season just as fruit trees begin their yearly growth spurts and therefore don't seek the water that the thirsty trees need. Most important, notes Hemenway, jonquils and other daffodils "are particularly useful bulbs, as they contain toxins which animals abhor. Deer eschew the aboveground parts, and gophers are repelled by the bulbs." He recommends planting a double line of daffodils--one around the trunk and one at the outer edge of the branches' drip line--around young fruit trees in order to stop both root- and bark-chewing pests.
Specialized Growing Conditions
Because of their small size, jonquils fit well in rock gardens and as container plants. In rock gardens or other places you'd like to naturalize the bulbs, use a spade, crowbar or even a cordless drill to break up uncultivated soil. For pot culture, wash a 1-gallon container with bleach and let it dry. Put a small amount 0-10-10 fertilizer at the bottom of the pot and fill the rest with one part perlite to three parts sterilized garden soil. Plant two jonquil bulbs in the pot, each at a depth of about one-third of the pot. Make sure not to plant the bulbs too close to one another. Water every day for the first week, and make sure the pot never dries out. After blooming season, the plants appreciate an application of 5-10-10. In severe climates, bring the pots into an unheated basement or garage for the winter.
Resources