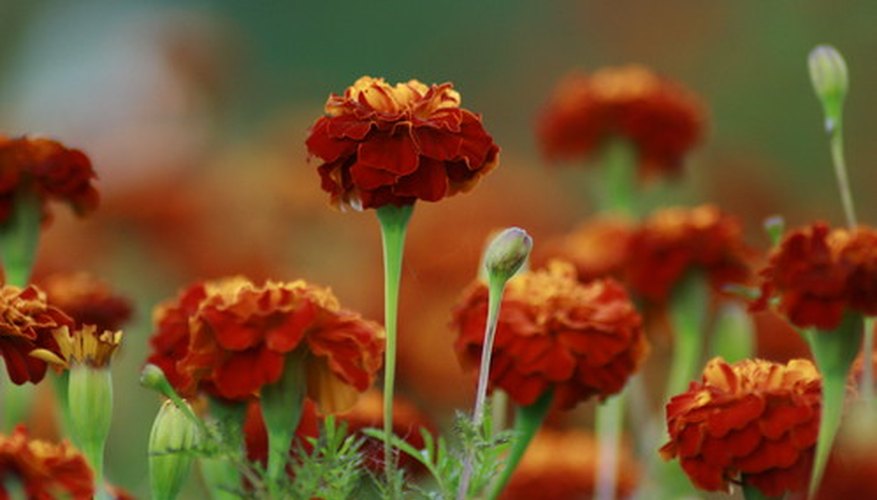 Tagetes is the genus name for marigold flowers. It is part of the Asteraceae/Compositae, or aster/daisy, family of plants. Marigolds are fast-growing annual flowers and come in hundreds of varieties. They are native to Mexico and Central America and were brought to Europe in the 16th century.
Categorization
Marigolds are divided into three categories. French marigolds, the Tagetes patula, are 6 to 12 inches tall with 2-inch-wide flowers. Their blooms last until frost. African (or American) marigolds, the Tagetes erecta, grow up to 3 feet tall with larger flowers and a shorter flowering timeline. The last category are the triploid marigolds, a hybrid of the African and French, with 3-inch-wide flowers and nonstop blooms.
Description
Marigolds have dark green leaves that are deeply divided and fragrant. Their flowers are in the yellow, gold, bronze and orange hue palate, with sizes that vary according to their category. The plants can range from 6 inches to 3 feet in height, again according to their category. Some people find the pungent marigold fragrance unpleasant.
Growth
Plant a marigold in full sun for the brightest light with any soil type (clay, loam, sandy). They are very adaptable to their surroundings. Water them whenever there is a drought. Plant them as annuals, although they may be a tender perennial in tropical areas. They are hardy in U.S. Department of Agriculture zones 9 to 11.
Usage
Marigolds are well-suited for flowerbeds and in borders. They are durable and provide long-lasting blooms in the landscape. Marigolds may keep pests and insects out of a vegetable garden if planted in with the vegetables. They are very easy to grow, and they germinate without trouble. These are cheap flowers that pack good punch for the buck.
Propagation
To propagate marigolds, you need to sow seeds. Start them indoors and then transplant to the garden plot, or sow them directly outdoors, covering them lightly with soil. If you start them indoors, do not transplant until the risk of frost has passed. The seeds are black, needle thin and hard to handle. After an inch or two of growth, thin the plants so that they are 12 inches apart.