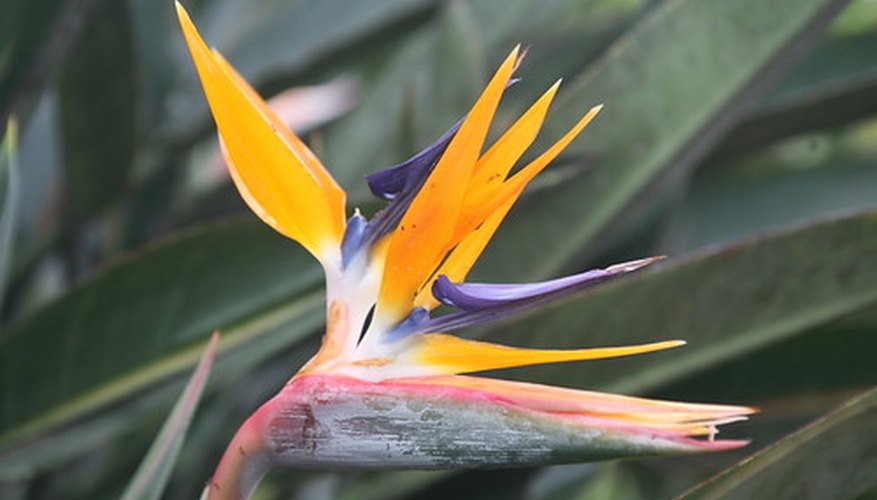 Image by Flickr.com, courtesy of Cliff
The Bird of Paradise is a popular flower for centerpieces at weddings and as a gift for many occasions, including wedding anniversaries. This plant is tropical and will, when cared for properly, produce flowers once a year. Caring for a bird of paradise plants requires a little planning, but is not difficult.
Origins
The Bird of Paradise is native to South Africa. There are five species of this plant, all of the genus Strelitzia. The leaves of the plant are a bluish-green with some leaves having a red mid-rib. They are also known as crane flowers, and bloom from September through May. The flowers on the Bird of Paradise is comprised of three upright orange sepals with three modified blue bright blue petals. The petals are in an arrowhead shape with the third petal forming a nectary at the base.
Size
Bird of Paradise grows from rhizomes and reach 3-5 feet tall. Leaves look a bit like banana leaves and grow 6-8 inches long. Flowers on the Bird of Paradise grow 4-8 inches long.
Care & Growing
Being a tropical plant, the Bird of Paradise won't tolerate temperatures lower than 50 degrees Fahrenheit. Keep the soil moist in the spring and summer, but allow it to dry out between waterings in the winter. Cut the plant back once a month in the fall and winter. Re-pot the plants in the spring to ensure adequate space for root growth.
Significance
The Bird of Paradise represents joyfulness. It also symbolizes freedom, good perspectives, and faithfulness. The Bird of Paradise is the traditional flower for a ninth wedding anniversary.
Introduction to Europe
The Bird of Paradise was introduced into England in 1761. It was initially named the Strelitzia after the woman who married King George the III of England, Charlotte of Mecklenburg-Streliz. The flower was brought to England for King George in honor of his marriage to Charlotte of Mecklenburg-Streliz.