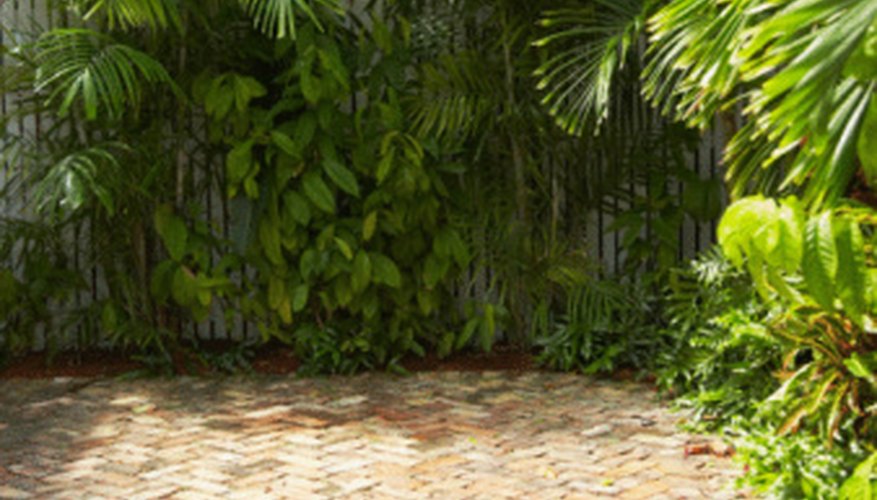 Whereas a designer with an endless budget can focus on built-in grills, fire pits and full bars, a designer on a strict budget must stick to the basics. In particular, budget-conscious designers must keep in mind that the ultimate purpose of a patio is usable exterior space. If you direct your efforts and finances toward essential comforts such as floors and overhead coverings, work with inexpensive materials and do the work yourself, you can expand your patio without spending a fortune.
Inexpensive Patio Flooring
Steer away from expensive natural-stone materials and consider paving bricks or concrete paver. As of 2011, many paving bricks and concrete pavers cost less than $1 per unit. Brick and concrete pavers are available in various colors, including red and gray, and shapes, such as square units and traditional brick sizes. Even better, installing brick or concrete pavers is well within the reach of a novice builder: Pavers can rest directly on a base of gravel and sand, so there's no need for any concrete pouring or finishing skills.
Expand with a Patio Canopy
Often available at outdoor furniture stores and home improvement warehouses, patio canopies are prefabricated patio cover units that require only finish assembly with common hand tools. Unlike the portable, collapsing canopies often seen at parks and the beach, an assembled patio canopy is a semipermanent structure that includes decorative metal posts and a patterned canvas cover. Whereas building a traditional awning or wood-framed patio structure might cost thousands or tens of thousands of dollars, patio canopies typically range from a few hundred to a thousand dollars.
Slat-and-Shade-Cloth Covering
If you choose to build a traditional, wood-framed patio cover, you can save on materials costs and reduce labor by leaving beams exposed and covering the structure with a combination of wooden slats and shade cloth. A typical wood-framed patio cover consists of rafter beams, called joists, that stretch between a set of posts and beams. Builders commonly fasten 2-by-2-inch or 1-by-2-inch lumber called slats directly on top of the joists in evenly spaced increments. This type of cover provides partial shade despite the gaps between slats. To further reduce exposure to the sun, builders can staple a sun-blocking fabric called shade cloth to the top of the slats.
Gravel and Wood Chip Surface Coverings
Loose filler materials such as pea gravel or decorative wood chips are inexpensive and create a visual impression of separation from surrounding areas. Although many homeowners associate gravel and wood chips with garden borders and pathways, these filler materials provide a comfortable walking surface and a suitable base for patio furniture. You can contain the filler material within a simple boxlike frame built of construction lumber, or a border of bricks. Interspersing paving stones or concrete pavers throughout the center of the filled area adds variety to the filler's appearance.