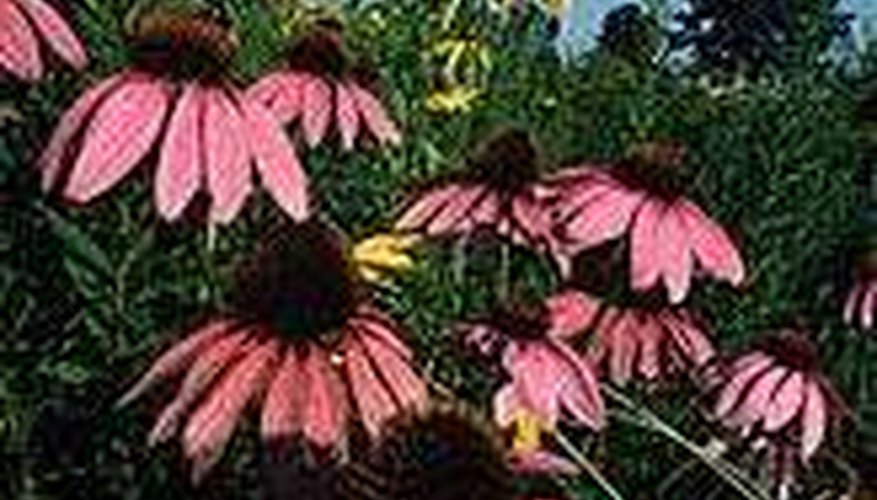 by Barbara Fahs
Move over Vitamin C! Get ready to share the spotlight with Echinacea, also known as Purple Coneflower, the number 1-selling herbal supplement on the American health scene. More than just another pretty face among the wildflowers, Echinacea Purpurea (and other varieties of the plant) has long been used by Native Americans and Europeans as a booster of the immune system, potent preventer of colds and flu, and fighter of infections such as bronchitis, all in one.
Scientific research on Echinacea (pronounced "eh-kin-AY-sha") has been so conclusive that the Food and Drug Administration has approved an Echinacea extract for over-the-counter sales. (Weissbuch and Weissbuch, 1987) Now it's becoming trendy as Hollywood celebrities discover it--Cher, Jodie Foster, and members of the Star Trek cast reportedly use the herb to ward off colds and the flu.
Historical Notes
Echinacea was a traditional remedy of the Native American Indians in the Great Plains, where it grows wild. The Cheyenne, Comanche, and other tribes used it for many ailments, including toothaches, sore throats, tonsillitis, coughs, and blood and lymphatic diseases.
A lay doctor, H. C. F. Meyer, "re-discovered" Echinacea in the 1870s, and within 20 years it became the most popular herb of the era. Dr. Meyer was so confident in his claims that he offered to "allow himself to be bitten by several rattlesnakes to prove the truth of his claims. Meyer claimed to know of over 600 cases in which his remedy had not failed to cure rattlesnake bites." (Echinacea: Nature's Immune Enhancer, Stephen Foster, 1991)
What Makes It Work?
Echinacea works with the body's own defense mechanisms. According to a 1987 paper by Brian Weissbuch, L.Ac., it contains polysaccharides called Echinacins, which bind to cells and prevent pathogens from invading. By protecting cells and preventing their breakdown, it "counters the spread of pathogens and reduces inflammation."
Echinacin also improves immune function by "increasing the chemical recognition of an invading pathogen... the speed at which the immune cells migrate to the site of infection and destroy the invader is markedly increased." Weissbuch documents Echinacea's "enhancement of native interferon production," which blocks the "transcription of viral and cancer cell DNA, preventing further infection and malignancy."
Herbalist Jeanine Pollak, of Santa Cruz, California, explains this process in layman's terms: "The immune cells devour things that are bad for your body before they can develop and make you sick. I think of them as little Pac Mans gobbling up the bad guys."
An Herbalist's Guide to Growing and Using Echinacea
Echinacea (Coneflower) is not only a beautiful flower, prized by gardeners, but it is also a potent medicine. This booklet explains how to grow, harvest and preserve echinacea. It also contains a wealth of recipes for teas, tonics, sprays, tinctures, salves, syrups and more.
When to Use Echinacea
Traditionally, Echinacea was used to help heal insect bites, diphtheria, typhoid, blood poisoning, and other diseases such as tuberculosis that affect the body's immune system. The American Botanical Council states that "Echinacea may be of value for any infection, chronic or acute, but especially where there is not long-term immune deficiency or dysfunction." (Herbalgram #30 supplement, 1994)
Today we don't see much typhoid fever, but if you catch the beginning stages of a sore throat, a cold, the flu, or an upper respiratory infection, Echinacea can help to nip it in the bud. Herbalist Jeanine cautions "not to expect Echinacea by itself to always cure more serious infections such as strep or bronchitis: combining it with other herbs like Goldenseal, Osha, Usnea, Horseradish can help, and remember the 'kitchen herbs' such as lemon, ginger, garlic, and cayenne. Get some rest, drink hot tea and soups, and cut down on dairy products."
Echinacea helps to prevent colds and flu when everyone around you seems to be sick. "Although you shouldn't take Echinacea forever, you can take it off and on as needed during the winter to keep your immune system strong," Jeanine explained.
Even if you don't start taking Echinacea at the first sign of illness, this herb can shorten the severity and duration of many common illnesses. "In my 20 years of experience, I've found that it helps keep infections from settling deeper into the body: for example, colds go up and out instead of into the lungs."
But Jeanine says to treat yourself correctly: "It's human nature to want a simple cure for what ails us, but it's not always simple. Read the literature, and most importantly, if you're really sick, go to a doctor or licensed practitioner. Evaluate your symptoms and ask, "am I doing the right thing?" She advises that after you start feeling better, don't stop taking Echinacea "cold turkey." After your symptoms improve, keep your Echinacea intake steady, and then gradually decrease your dosage over several days.
Buying Echinacea
Freshness is important. Dried roots and powdered herbs in capsules can be old, minimizing their effectiveness, so look for fresh root tincture in natural food stores. Tinctures are simply a "steeped" mixture of herb in alcohol (alcohol-free tinctures are available). When you buy dried root for homemade remedies (see the recipes later in this article), check its freshness by tasting a piece: does it have a "tingly, buzzy effect" on your tongue and does it cause you to salivate? This test reveals if the herb is potent and has the "kick" needed for an effective treatment.
To ensure freshness, you can easily grow your own Echinacea. Some nurseries and seed catalogs carry starter plants and seeds (starting from seed can be tricky, however), but wait three years before you use the root because the plant's constituents must mature. You can use the leaves and flowers sooner, but the root is the strongest part of the plant.
Dosages of Echinacea
Tincture: A 1992 German study showed that 180 drops of an Echinacea root extract significantly reduced the severity and duration of flu-like infections, "whereas 90 drops was no more effective than a placebo." (Herbalgram #30 supplement, 1992) Follow label instructions, be sure to take enough, and take it on a regular basis. The proper choice of herbs and consistency of your treatment plan is imperative to success with home remedies.
Topical: Herbalgram #38, Fall 1996, reports on a recent Italian study that "supports the view that extracts from Echinacea can be used for the prevention and treatment of skin photodamage." The topical use of Echinacea is widespread in Europe, but it is only slowly catching on here. Echinacea creams and ointments are available at natural food stores, or you can make a poultice from powdered cosmetic clay and Echinacea tincture. Mix until it's clay-like, then apply it to boils, poison oak, or insect bites.
Cautions
If your symptoms remain after a week or so, re-evaluate your treatment. Some conditions are more complex to treat and may require other herbs or treatment programs. Consult a licensed practitioner if you are considering using Echinacea to help treat serious conditions.
Recipes
Following are several of Jeanine Pollak's recipes for remedies you can make at home.
Sore Throat Comfort
Mix 2 droppers of Echinacea tincture in 1/2 cup warm water. Gargle with it two or three times daily.
For a children's tonic, mix 1/2 dropper of tincture with grape or cranberry juice to improve the taste and provide some nutrients.
Feel-Good Echinacea Tea
Combine 4 TB of these ingredients in a non-metal 1 quart pot:
Echinacea root
Grated ginger root
Fennel seed
Add 1 TB of these ingredients:
Licorice root
Orange peel or slices
The extra ingredients make this tea taste good, plus they have an added effect: ginger is an expectorant; licorice soothes your throat; fennel moistens your throat and lungs and helps to settle your stomach; the citrus is antiseptic, antibacterial, and rich in bioflavonoids.
Fill the pot almost to the top with water, cover, and simmer for 20 minutes. Pour it through a strainer before you drink it.
Drink 3 hot cups of this yummy concoction per day until your symptoms improve.
Best Possible Dried Echinacea Tincture
Buy good quality dried Echinacea root.
Grind 2 oz. root in a coffee grinder (clean grinder before and after use), then place it in a quart jar and add the following:
1 handful grated ginger root
3-4 orange slices
1 handful freshly-chopped or dried peppermint
Cover with 3 times more brandy than dry ingredients.
Cover the jar with plastic wrap, then screw the lid on tightly.
Shake the jar daily for two weeks.
After two weeks, strain the mixture through cheesecloth or a stocking and squeeze all of the liquid out of the "marc" (the herbal material).
Re-bottle the completed tincture into a smaller glass container, close tightly, label it, and date it.
Tinctures keep indefinitely at room temperature in a dark cupboard.
Dose: Take 1/4 to 1/2 tsp. or 1 dropperful 2 or 3 times daily until your symptoms have been gone for a few days.
If you package the tincture in attractive apothecary jars, it makes great gifts and you can spread the good news about Echinacea's natural and effective healing effects to your friends and family.
About the Authors Jeanine Pollak leads herb walks and teaches herbalism classes in Santa Cruz and throughout Northern California. You can write to her at Jpollak(at)cruzio.com.

Barbara Fahs (hiiakas(at)pop.lava.net) lives on the Big Island of Hawaii, where she is planting and establishing an educational herb garden she calls "Hi'iaka's Garden." She is a University of California Cooperative Extension Master Gardener and has been studying, growing, and using culinary and healing herbs since 1971. Visit her web site at http://www.lava.net/hiiakas.
Sources:
"Antioxidant Protection From Echinacea." Herbalgram #38, Fall 1996. Journal of the American Botanical Council and the Herb Research Foundation.
"Echinacea: A Literature Review: Botany, History, Chemistry, Pharmacology, Toxicology, and Clinical Uses." Christopher Hobbs, L.Ac. Journal of the American Botanical Council and the Herb Research Foundation, Supplement to Herbalgram #30, 1994.
Echinacea: Nature's Immune Enhancer. Stephen Foster. Healing Arts Press, Rochester, VT. 1991.
KW Botanicals Echinacea Extract. Weissbuch and Weissbuch, KW Botanicals, San Anselmo, CA, 1987.