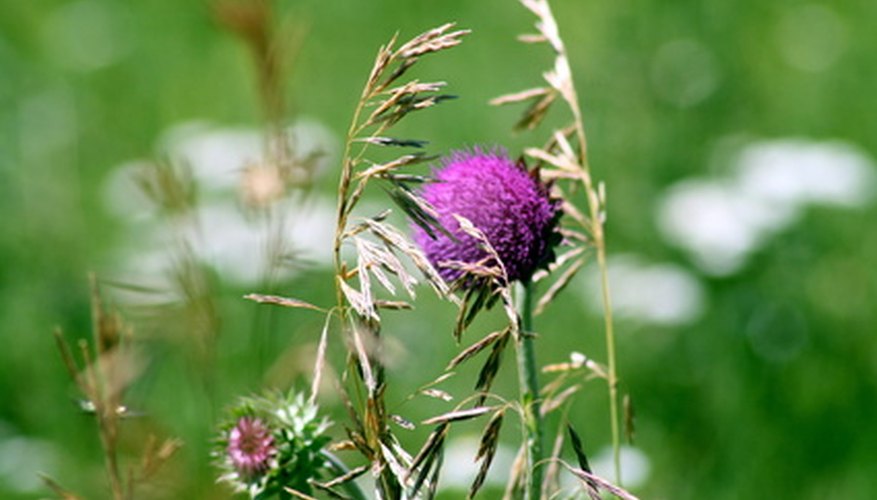 Every year, home and property owners that also have gardens enjoy the fruits of their labor but lament over encroaching weeds, sometimes spending well over a hundred dollars a season on commercial weed killers. Do-it-yourselfers can whip up their own homemade weed killing concoctions that are simple to make, simple to use and affordable, and aren't harmful to the environment. The downside to homemade weed killers is making sure none of the stuff gets on other plants.
A Basic Mix
Pour one gallon of pure white vinegar into a plastic 2-gallon bucket and stir in 1 cup of granulated rock salt and 1 tablespoon of liquid dish soap or detergent. Stir briskly for several seconds to mix the concoction well. Fill an empty spray bottle with the mix and spray this directly onto a group of weeds, such as dandelions that jut up from sidewalk cracks. This basic mix will kill the weeds after a few applications and usually within a day's time.
Super Salty
Add 1 ½ cups of plain table salt to 3 cups of boiling water. Stir well until the salt is completely dissolved. Carefully pour the steaming hot saltwater into a metal watering can and pour the saltwater mixture directly onto offending weeds, taking care not to pour the water onto any surrounding flowers or grasses, which will, of course, kill them as well. Usually this salt-based mix kills the weed within a few hours time.
Do Some Digging
Use a butter knife to stab into thin cracks and crevices that have weeds growing up from them. This helps stir the ground up and helps remove debris. Pour either of the above mixes over the sidewalk, which will seep into the cracks to soak down into the soil where it will have a better chance of penetrating the soil line and killing the root systems.
Plastic Sheeting
Cut sheets of black gardening plastic to cover weed-filled areas. Once the weeds have been pulled, chances are there are seeds still remaining. Dandelions are notorious for this. Lay the plastic sheets over the area and cover the sheets with small rocks to anchor them. The plastic will heat up from the sun, and after about a week's time will "bake" any weed seeds hidden in the soil. Remove the plastic after a week and apply some saltwater mix for good measure.