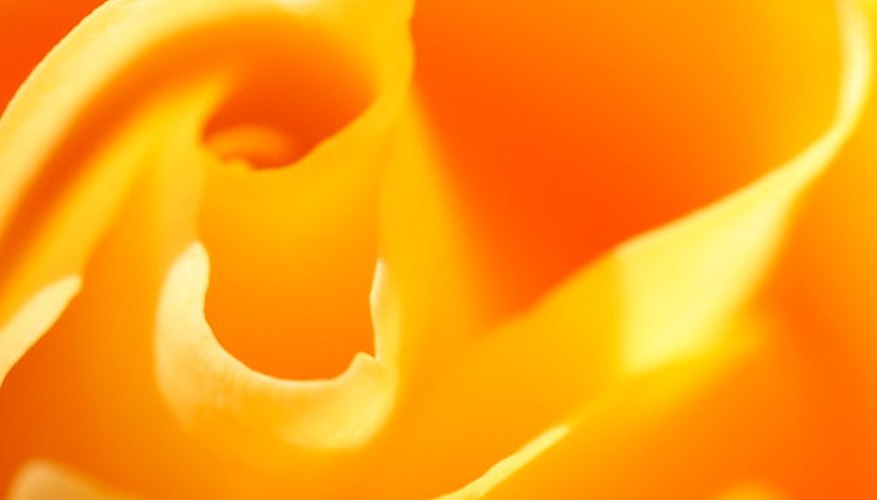 "Hope" is Copyrighted by Flickr user: kevindooley (Kevin Dooley) under the Creative Commons Attribution license.
In 1867, Jean-Baptiste Guillot of France hybridized an old Chinese tea rose with a European rose. The result was named "La France," the first hybrid tea rose in the world, a delicate silvery white and pink flower. Guillot created a horticultural masterpiece, the actual origins of which are unknown. Since then, hybrid tea roses have become a thriving, worldwide success story.
Lineage
Today's yellow tea rose also has a significant lineage. It is a descendant of the original tea-scented rose that arrived in Europe from China during the 1800s. Its name derives from the subtle scent of black tea that sometimes characterizes this hybrid bush rose. The repeat-flowering character of the yellow tea rose is ascribed to its Chinese ancestry. Another imported advantage of the yellow tea rose is its ability to sustain and often enhance the color quality of its petals without fading.
Peace
The light yellow Peace Rose is a hybrid tea rose with a significant history dating back to the 1930s. It was created by Francis Meilland, a French horticulturist, who sent cuttings to various countries just before World War II to ensure the survival of this rose. His rose was named "Peace" on April 29, 1945, when Berlin fell and the War came to an end. Peace roses were presented to delegations to the inaugural meeting of the United Nations in San Francisco in 1945.
Legends
The yellow tea rose is associated with individuals who have made significant contributions in their fields and to the world at large. An example is the Henry Fonda Hybrid Tea Rose, named for a legend of the film world. It is sold commercially in bush or tree forms, and produces bright yellow blooms on 10-inch to 15-inch stems.
Color
To believers in the meaning of colors, the yellow tea rose signifies good cheer, renewal and hope. It is interesting to note that there was a time when flowers like the yellow tea rose were so rare that they were used as currency. Centuries later, on occasions like Valentine's Day, their value skyrockets once again, and purchasing them requires a princely sum of currency.
Foundation
True to the flower's connotation of hope and renewal, the Yellow Tea Rose Foundation, Inc., provides support for children and youth through scholarships, and services to the disadvantaged in the Washington D.C., area. The Foundation operates under the umbrella of the Sigma Gamma Rho Sorority, Inc., Phi Sigma Chapter.
Royal Albert
Significantly, between 1942 and 1987, the British pottery makers, Royal Albert, manufactured a line of English bone china inspired by the yellow tea rose. The company created an exclusive pattern of yellow tea roses for this special product line. Each item is back-stamped "Royal Albert Bone China England, "Tea Rose." As this pattern is no longer in production, the items manufactured previously are now sought-after collectibles.