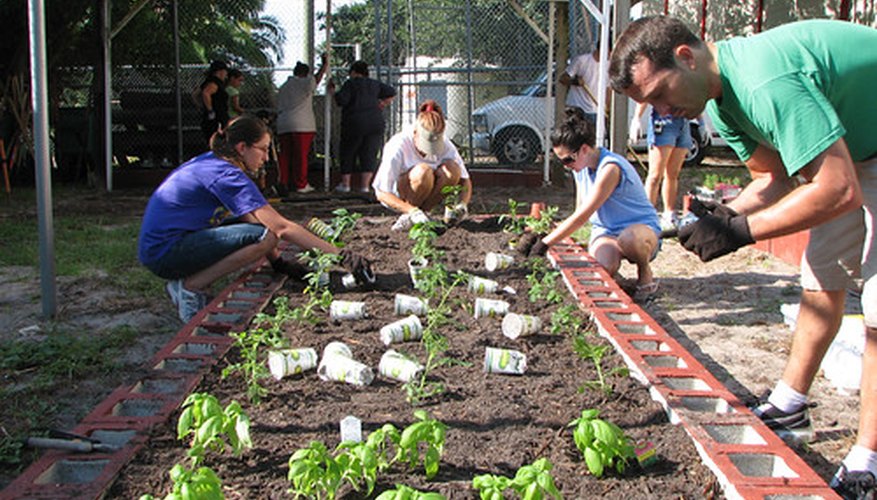 Home gardening has become very popular in recent years. People are jumping on the green-living bandwagon and doing more things to live a healthier life. Home gardening is included in the trend, as homegrown vegetables are much healthier and fresher than commercially sold vegetables. Two ways to start a vegetable garden are with seeds or starter plants. Starter plants are small vegetable plants in two-inch pots. Most vegetables are available as starter plants, so it will be easy to find your favorite vegetables to plant in your garden.
Identification
Look for healthy vegetable starter plants at local nurseries or in the gardening department of local discount stores. Many rural areas have feed stores that sell starter plants, whether they're shipped in or delivered by area farmers. Starter plants are grown from seeds of the previous year's vegetables and cultivated in late winter.
Considerations
Deciding what types of starter vegetables you would like in your garden is the first step before purchasing any plants. Consider the types of vegetables you would like to grow, and that your family will eat. Do not take up garden space with vegetables that you do not like, unless you are planning to start a roadside stand to sell your excess vegetables. This is a good way to make some extra income during the summer and fall months.
Types
Group plants with similar needs, such as space or growing period, together. Some plants, like cucumbers, corn, sweet corn, sweet potatoes and okra, are large garden vegetables and will require more garden space than tomatoes, peppers, carrots, lettuce or cabbage. Starter vegetable plants for the large vegetables require a larger area to grow. Also consider the growing period, and group plants with similar growth requirements together. It is better to plant the longer growing vegetables in a separate area of the garden instead of close to the short-term vegetables, so they will be out of the way of the short-term crops.
Time Frame
Short-term crops include beets, leaf lettuce, mustard greens, yellow squash, turnip greens, bush beans, radishes and spinach. These plants are ready to harvest within 30 to 60 days. Moderate crops are cabbage, broccoli, carrots, cucumbers, okra, peppers, tomatoes and green onions. The longer growing crops that take more than 80 days include cauliflower, eggplant, garlic, Irish potatoes, watermelon, cantaloupe, bulb onions, sweet potatoes and pumpkins.
Care
A general rule of thumb is to water well every three days if there has been no rain. The soil needs to be moist but not soggy. Really wet soil will cause the roots to rot and slow the plant growth, which inhibits fruit production.
References
Resources