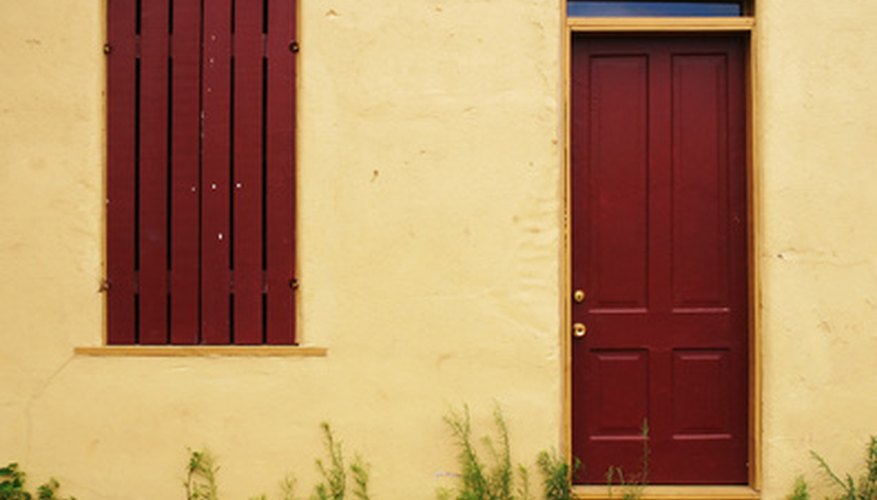 A motorists slows at a stop sign and proceeds through it. Immediately he is pulled over by a police officer for failing to stop. "But, I slowed down," the driver protests. Whereupon the officer takes his baton and begins beating the man for several minutes, stops and says to the driver, "Now, would you like me to stop or slow down?" You face a similar situation abating weeds. Homemade remedies from vinegar, salt and boiling applications, while all relatively inexpensive, will kill the leaf growth temporarily but usually not the roots. There are three main types of weeds and effectively killing each requires its own special commercial application. Or, you can pull or dig them out manually, which is definitely the cheapest method and unquestionably the most effective.
Commercial Solutions
Kill certain weeds with pre-emergent herbicides, meaning the seeds won't germinate or grow at all. Kill them when they first sprout using a post-emergent selective herbicide and spray them when they are young. Selective herbicides will kill only certain weeds and will not affect most surrounding plants. Kill them with a non-selective post-emergent herbicide which, unfortunately, will also kill all the other plants in the vicinity. Prices vary for each, and although the concept of inexpensive is a relative one, when herbicides are purchased in bulk, the price per unit declines. So, how much you need depends on the size lawn, garden or farmland on which you're attempting to control. This may not be what you want to hear, but the question remains whether you want to stop them and use repeated applications of homemade concoctions, or do you want to kill them?
Choose the right herbicide for the right job. Weeds are classified as either broadleaf, grass or sedge. While pre-emergent herbicides are effective for grassy and some annual broadleaf weeds, they will be ineffective for such perennial weeds as dandelion, Dallis grass and Johnson grass. Products such as Amaze, Surflan, Betasan, Pendulum, First Down Granules and Crabgrass Preventor are considered most effective for annual grassy weeds such as crabgrass, annual bluegrass, barnyardgrass, foxtail and rescue grass, according to James A. McAfee, Extension Turfgrass Specialist. As of 2011 the only pre-emergent herbicide to control annual broadleaf weeds such as henbit, chickweed and spotted spurge is sold under the trade name Protrait Broadleaf Weed Preventor.
Use selective post-emergence pesticides once broadleaf weeds have begun to sprout. The earlier the treatment the better, but for best results, the herbicides should be applied at temperatures ranging from 65 to 85 degrees Fahrenheit. These selective herbicides will mess up the hormonal balance of the plants affecting everything from photosynthesis to cell maceration. Lawn Spot Weeder, Wipe Out Broadleaf Weed Killer, and Weed-B-Gon are the most common brand names and considered to be the most effective.
Use non-selective weed killers to kill every weed (and unfortunately most every other living things in which it comes into contact) before a lawn is established or when you plan on restarting a lawn or garden. It can also be used when the lawn, field or garden in is in the dormant state. Most contain the active herbicidal glyphosate and are used in such products as Roundup, Finale Concentrate, Weed and Grass Killer, Knock Out, and Grass, among other trade names. Roundup is the preferred herbicide because of its effectiveness. Sometimes, it can be too effective if overused and has frequently been known for causing diminished crop production because it kills the crop along with the weeds. Roundup Super Concentrate Herbicide makes up to 21 gallons of finished solution but can cost as much as $49. Burnout Weed and Grass Killer costs around $10, works quickly, but for the price, the amount of killer is relatively small; Lawn Weed Killer Concentrate ($10) kills over 66 types of weeds including dandelions, chickweed and clover and doesn't harm lawns.
Homemade Weed-Killing Methods
Dig out the weeds after they have emerged but still young, before the roots can become established (either by spreading over a wide area or deeply into the ground like tap roots). If you choose the hand method, presumably you're weeding a small patch of land or lawn, or the process will be a long and painstaking one. However, if you get the entire root system, either using a hand trowel or long thin shovel, they won't return if they haven't gone to seed. In small gardens, a hoe can be used to get below the weeds' root line, and they can be removed by hand in that fashion.
Apply one of about a dozen different white distilled vinegar concentrations on the weeds (See References). White distilled vinegar, undiluted, contains 5 percent acetic acid, the active ingredient. So you're essentially pouring acid on the weeds. When mixed with soap, it helps the acid cling to the weed leaves and will usually kill the exposed weed within two days, according to numerous reports of those using this method. There are two downsides to using vinegar. One is that it is non-selective, meaning that anything else that comes in contact with the vinegar will be killed as well. Two is that it doesn't kill the roots. Most reports on the use of vinegar, either with salt, soapy or gin, all reported fresh leaf growth returned – sometimes within five days. Using this method will require repeated applications. However, it is a good homemade way to control weeds that sprout between concrete walkways and driveways because you don't want any growing plants in those locations anyway.
Weight down a large dark plastic tarp over an entire area that is heavily weed-infested. Deprived of sunlight and exposed to scalding temperatures. this method will kill all the plants, including weeds, grass and any other growth. It will be necessary to replant the area. It's best to use this method early in the season before the weeds have an opportunity to drop their seeds, or you'll have to perform the entire exercise a second time.
Use table salt for large, thick-stalked weeds with deep roots. Table salt (sodium chloride) reportedly will kill even the most undesirable and difficult weeds. It has the same non-selective disadvantage of all other home solutions. But for very specific areas, away from other desirable growth, pour generous doses of salt at ground level after cutting the stalks. It will likely take several generous applications of salt to kill the plant, root and all. Table salt, like vinegar, is very inexpensive, so pour away.